This crab imperial is a simple, no-fancy-ingredients, traditional Maryland recipe.
When it comes to eating crab meat, you really don't want to overwhelm it too much in any recipe.
Because if you do, you lose the taste of the crab's delicate flavor.
So, when I see crab recipes that include a ton of crazy ingredients, I tend to stay away from them.
Traditional Maryland Crab Imperial Recipe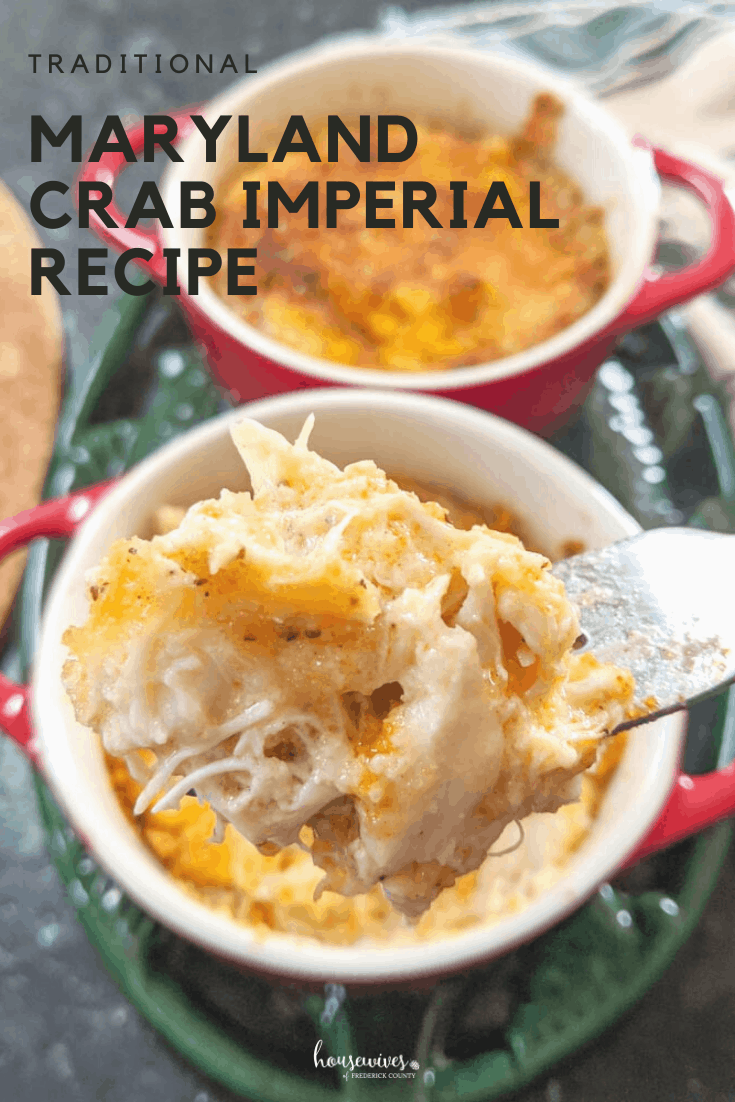 I didn't know this, but when I set out to find the best Maryland crab imperial recipe, I found that there are several variations recipes for crab imperial.
As a matter of fact, I actually made a different crab imperial recipe before I decided to make this one.
That recipe was perfectly fine, but it just wasn't what I was looking for.
I wanted something that was rich, but not too rich, and flavorful, but not overpowering.
In addition, another criteria was that it had to live up to my husband's idea of good.
Just typing that makes me feel like I'm a 50's housewife.
However, I really wanted it to be good for him because he grew up with his mom making crab imperial every Christmas Eve.
Everything my husband's mom made was delicious and I really wanted to bring back memories of his childhood through this recipe.
Particularly, because I couldn't find my husband's mom's recipe, I found this recipe for Simple Imperial Crab on a site called Maryland Delivered.
It's a great site for Maryland recipe lovers like me.
However, I did tweak the recipe a little bit in order to make it my own.
I'm going to give you the steps required for making this delectable crab meat entree.
How To Make Crab Imperial
First, you'll need to know the ingredients.
What is Crab Imperial Made of? Ingredients:
As I mentioned above, there are several ways to make crab imperial, but my family's personal favorite way to make it is with the below ingredients.
I used:
Premium Lump Crab Meat
2% Milk
Mayonnaise
Unseasoned Bread Crumbs
Dry Mustard
Sliced Pimientos
Butter
Egg
Flour
Salt
Pepper
Old Bay Seasoning (not pictured)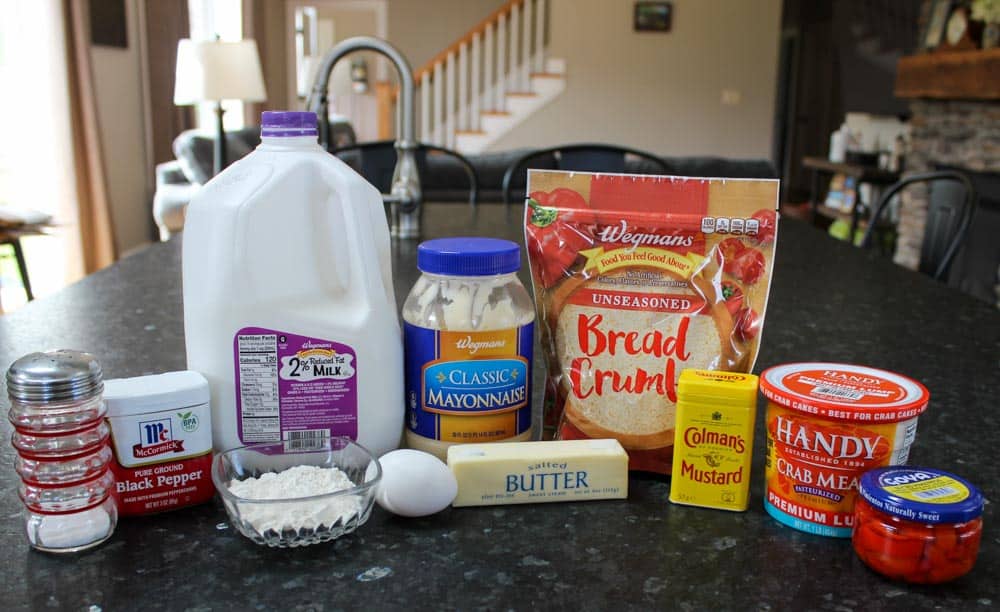 White Sauce
To make the white sauce, just add the flour, butter, and milk to a small saucepan and mix well.
Then, heat it over medium heat while stirring until the sauce thickens and is fully blended.
Let it cool slightly.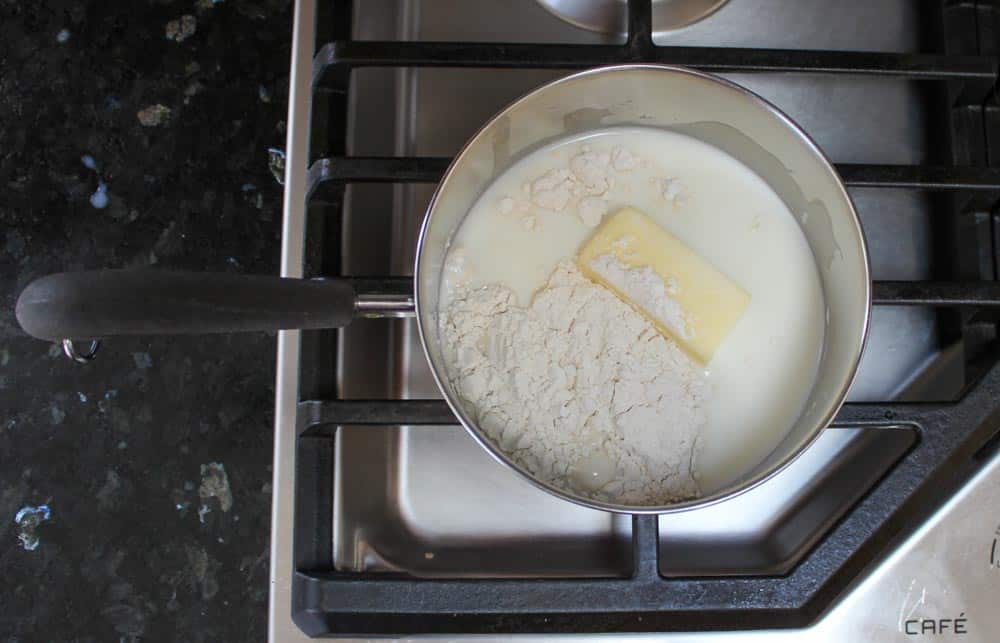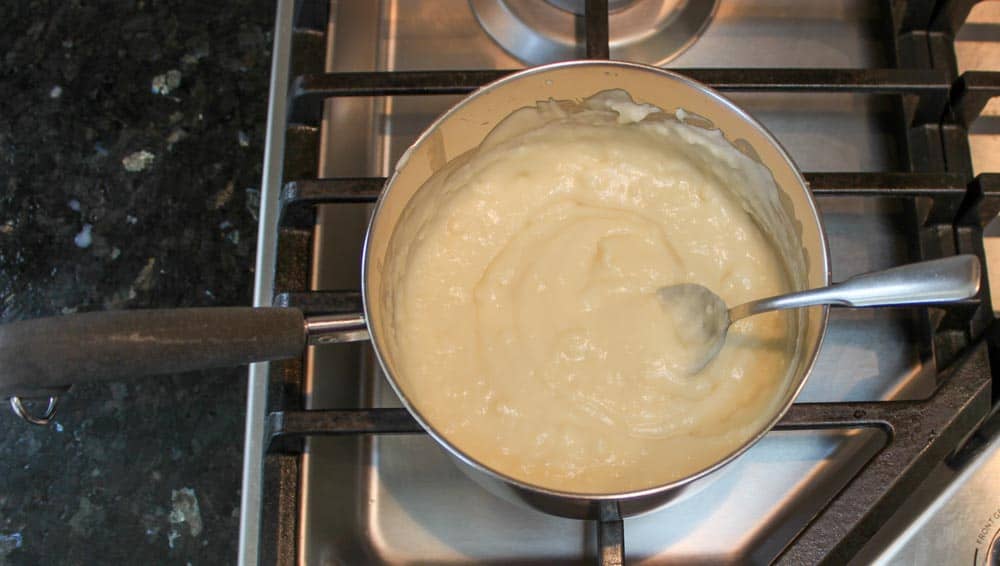 Mix Ingredients Into the White Sauce
Then, you want to mix in the crab meat, pimientos, mayonnaise, dry mustard and beaten egg.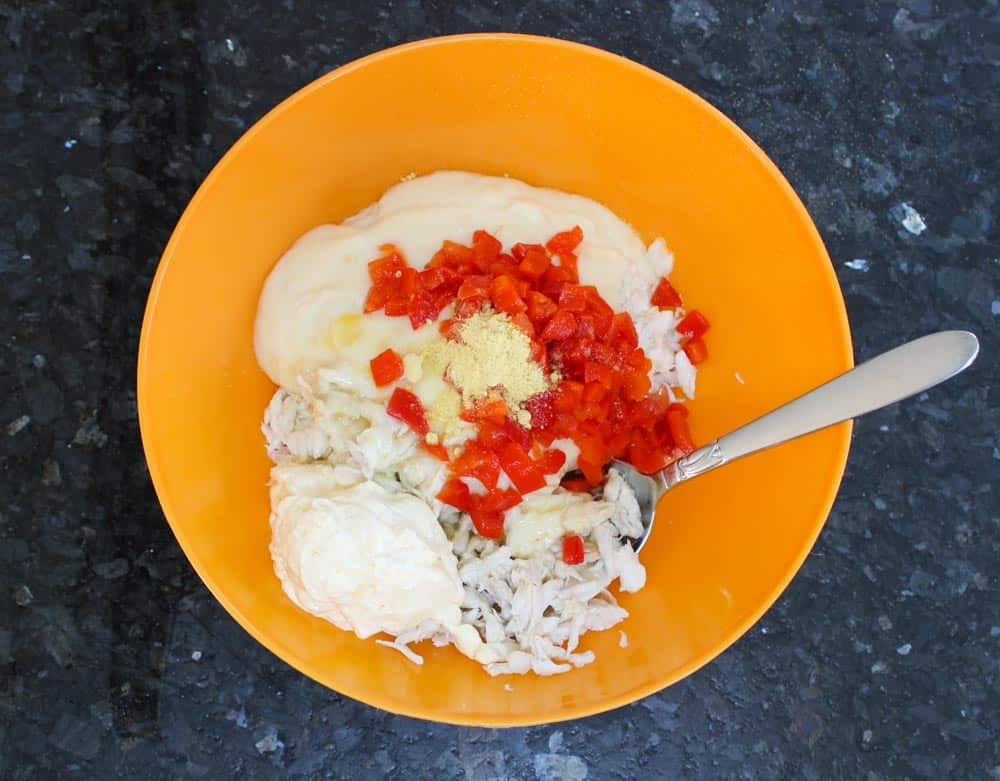 After that, mix it until it's well blended.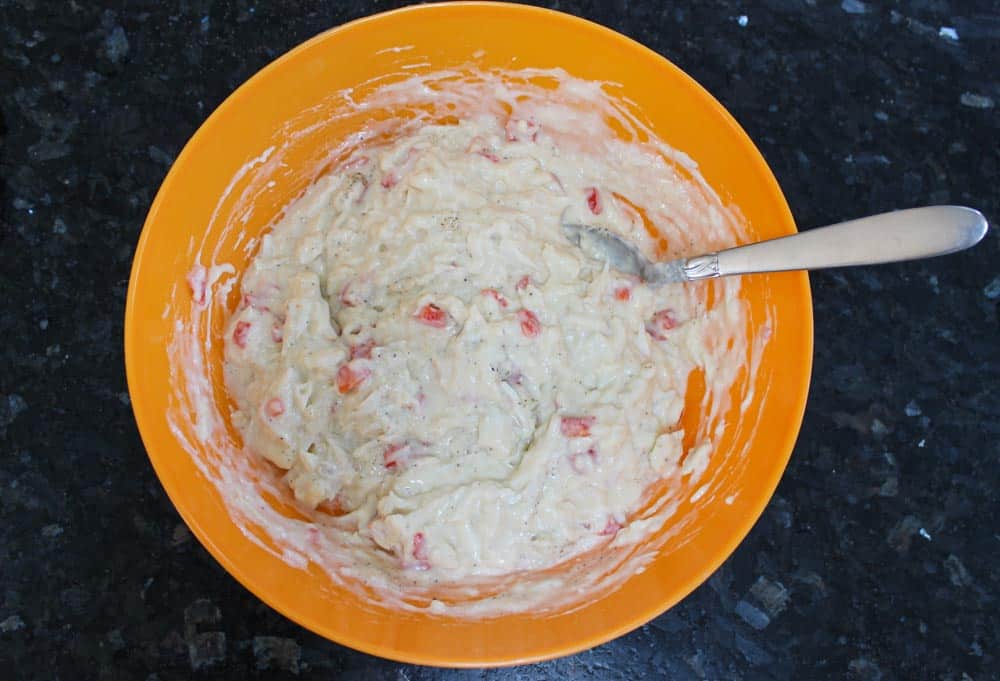 Add Crab Mixture To Individual Baking Dishes or Shells
This is one of the mistakes I made the first time I made the other crab imperial recipe.
I didn't have individual baking dishes, so I put the entire recipe into one big baking dish.
For some reason, it's just not the same as having your very own dish of amazing crab imperial sitting in front of you.
So I decided to get this set of 4 Mini Cocotte Casserole Dishes (Amazon).
I absolutely love them for this type of recipe and they come in a variety of colors!
And they're oven, microwave & dishwasher safe.
Traditionally, crab imperial is served in aluminum crab shells or natural scallop shells.
So you can decide which baking vessels you prefer to bake them in!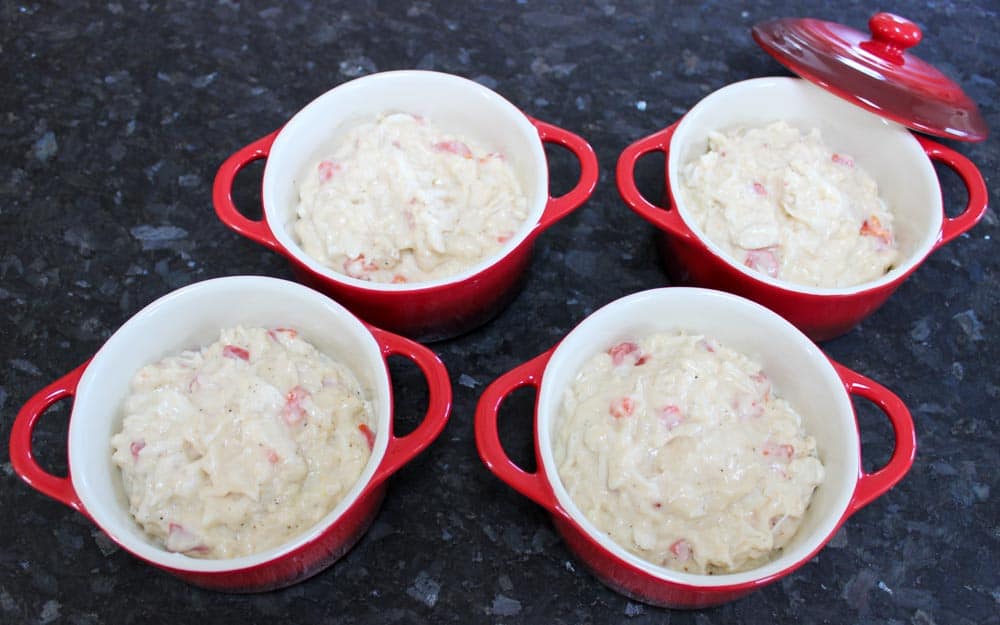 Sprinkle Bread Crumbs & Old Bay Seasoning
I used very fine bread crumbs and it turned out great!
But I might try larger bread crumbs next time.
My husband thinks that his Mom might have even just cut up pieces of bread to place on top of each serving, which sounds really good!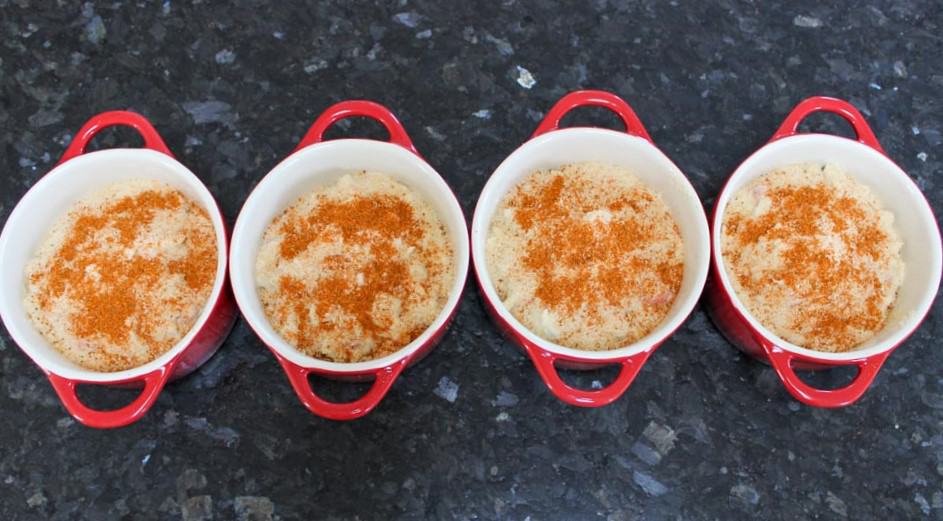 Add Very Thin Pats of Butter to Cover Each Dish
The butter is important because it will crisp up the bread crumbs while baking.
But you don't need a lot of butter, so make the slices as thin as possible to cover all of the bread crumbs.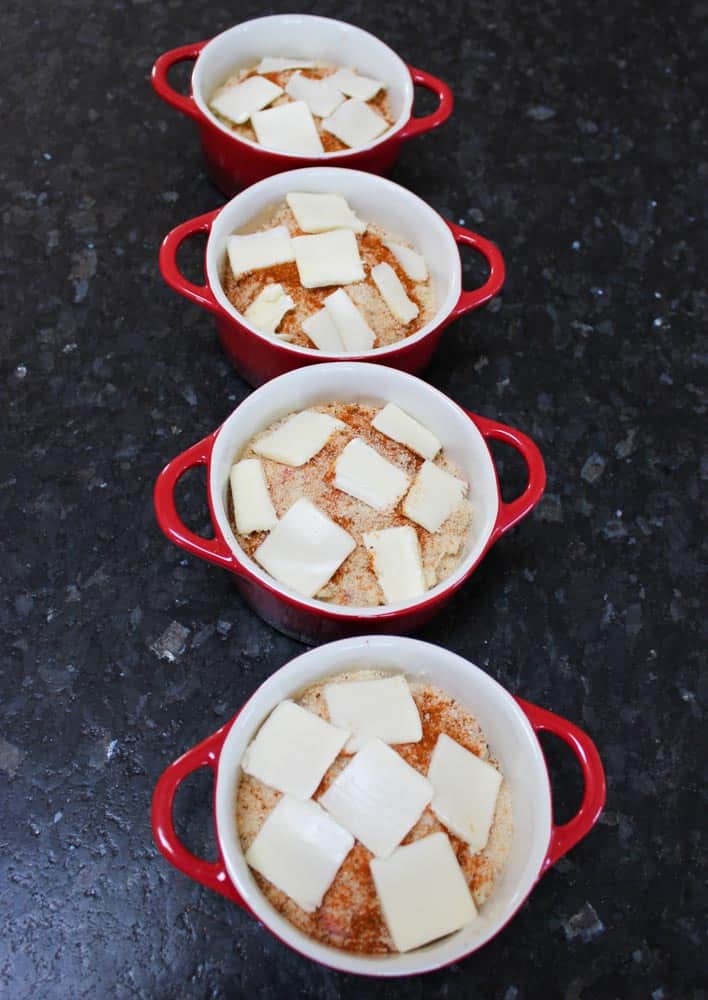 Bake in the Oven
Now it's time to bake your delectable creations in the oven.
I baked them for 15 minutes and then another 4 minutes on broil in order to brown the tops.
Be sure to keep a close eye on them though because you don't want the tops to burn.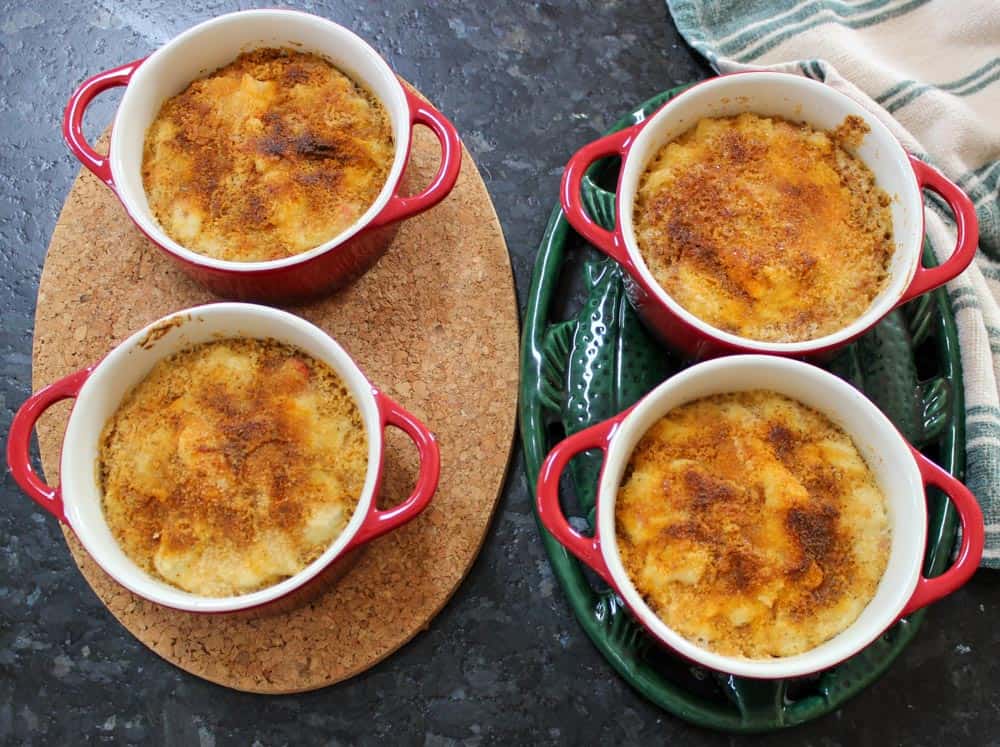 How it Tastes
So, I made this before my husband got home in order to take advantage of the natural light from the beautiful day.
Not gonna lie, I took a bite….and then another bite….and then another.
Luckily I made 4 portions and there are only 3 of us humans in this house.
Sorry Sarge, (my dog) but you can't have the 4th one!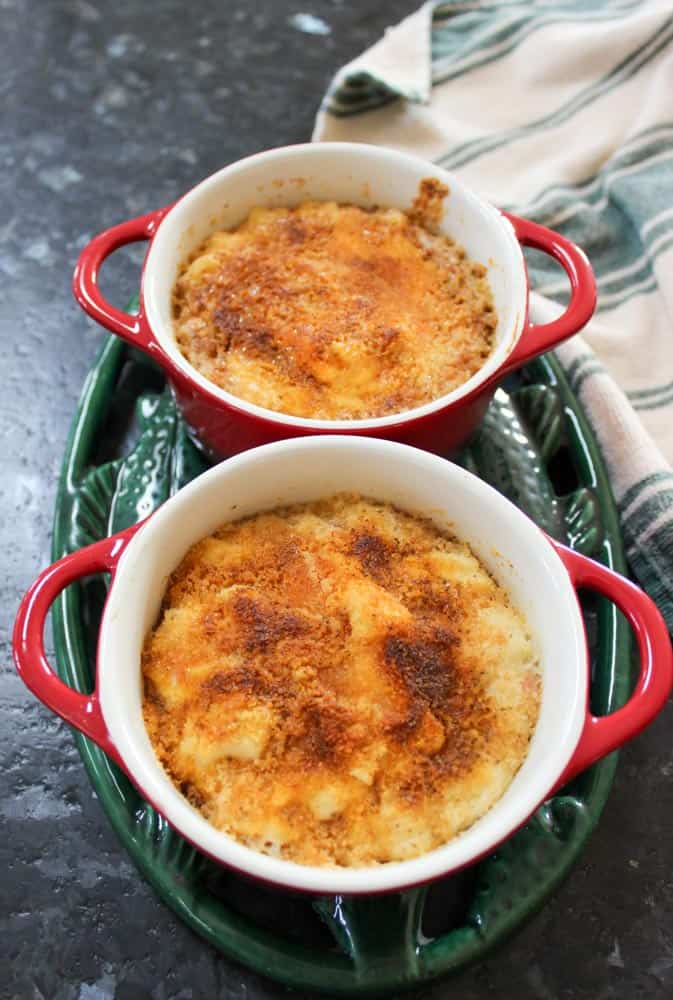 It was amazing!
The white sauce was just the right amount of creaminess.
The buttery bread crumbs on top crisped up perfectly and the dry mustard was just enough to add that extra layer of spice to the dish.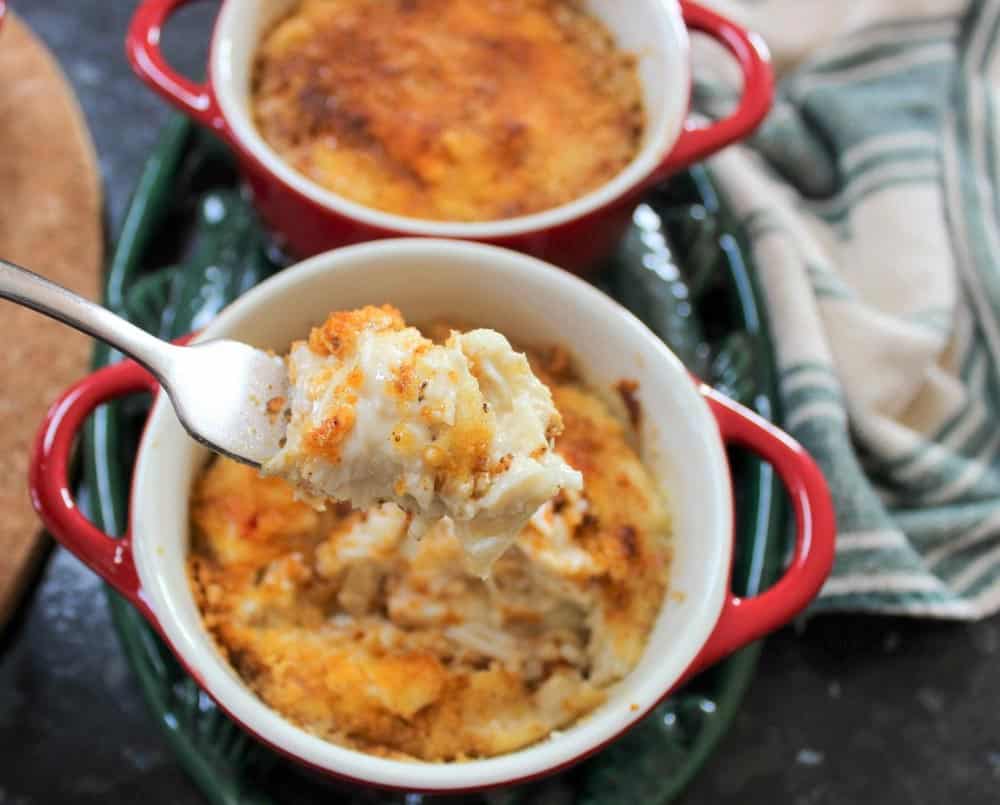 In addition, the sliced pimientos (which I cut up into smaller pieces) are just the right amount of texture along with the lump crab meat.
Side note: Don't buy the pimientos already diced. Based on my own experience, already diced pimientos are basically like tiny skins from the pepper and don't have any substance.
On the other hand, the sliced pimientos still have some texture to them even after you dice them.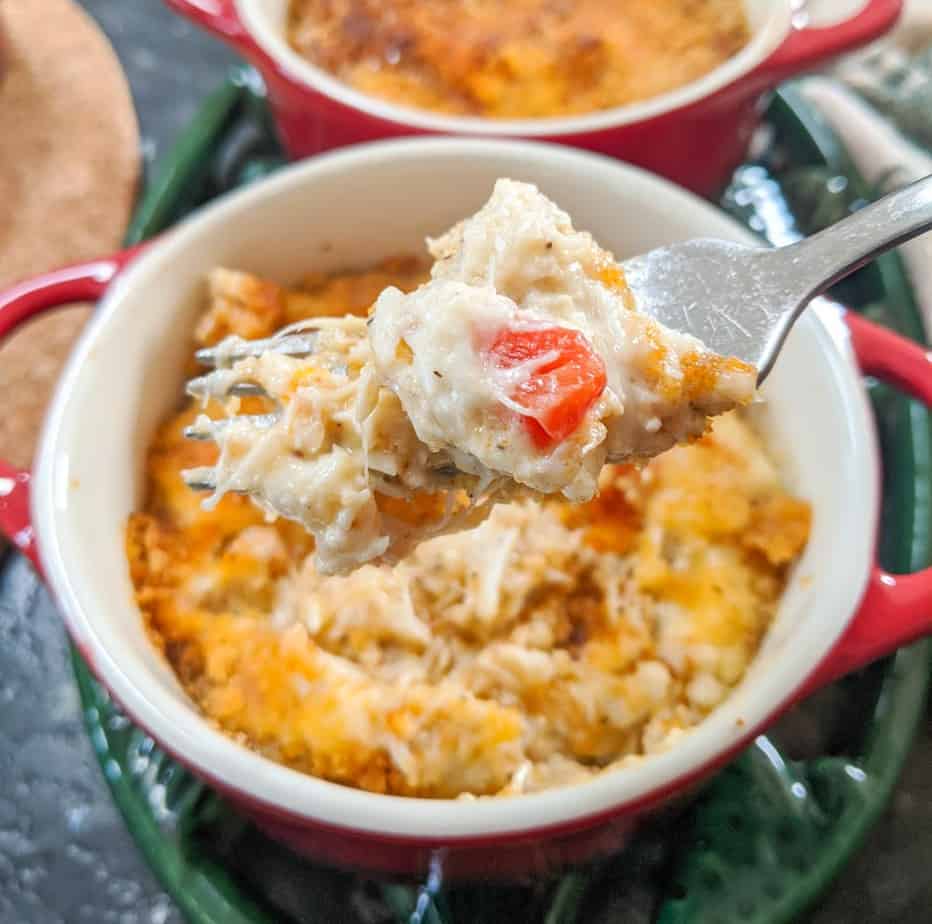 Last but not least, the Old Bay Seasoning is the perfect accompaniment to this recipe.
No, I'm not in a partnership with Old Bay for singing their praises in all of my seafood recipes.
Although, I wish that I was!
Crab meat and Old Bay Seasoning just go together like chocolate and peanut butter.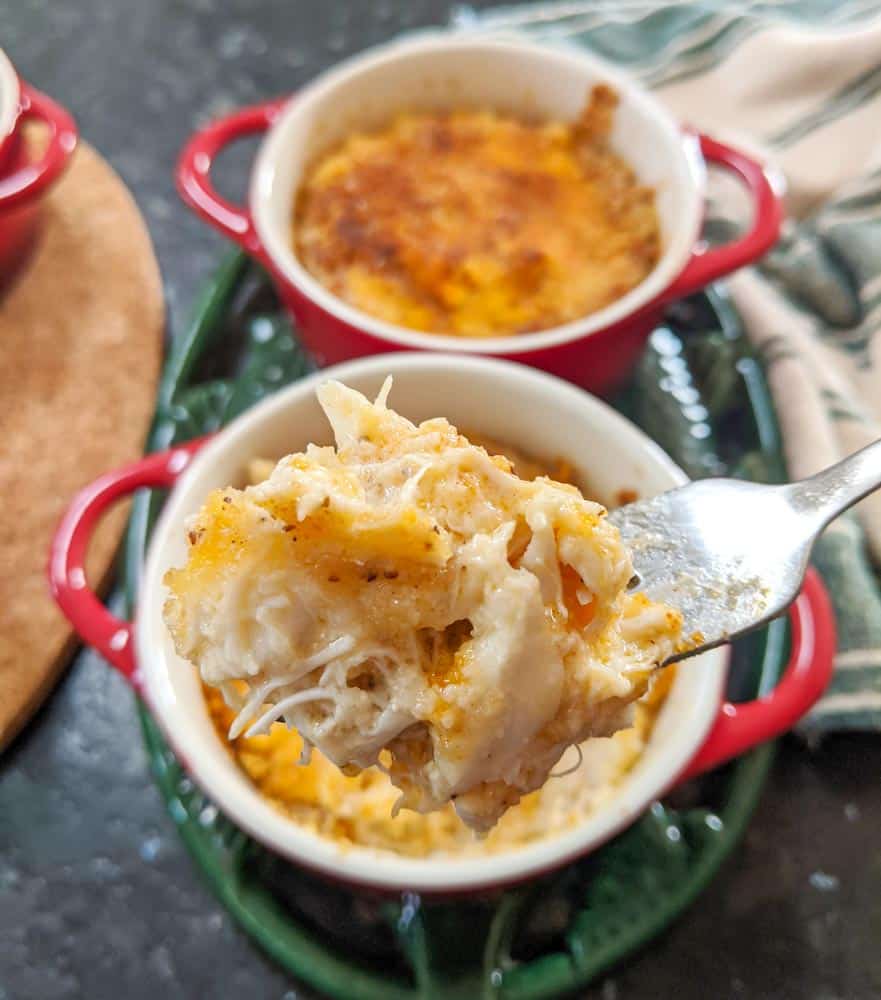 Traditional Maryland Crab Imperial Recipe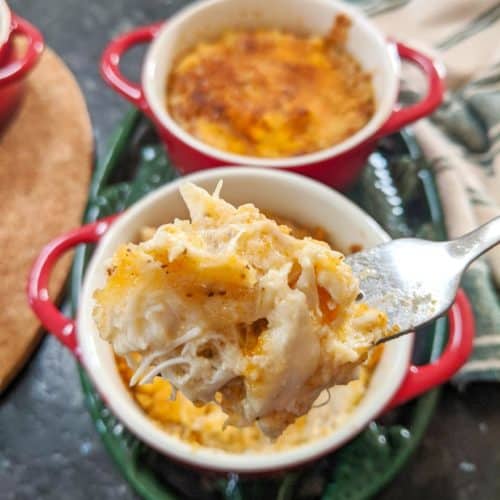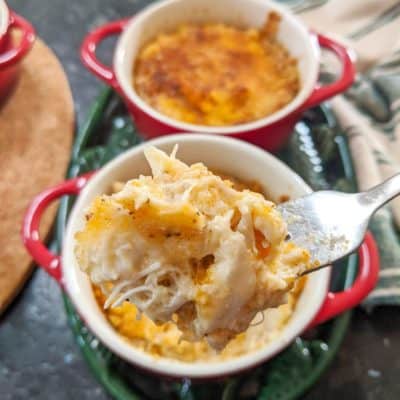 Traditional Maryland Crab Imperial Recipe
A traditional Maryland favorite! This Crab Imperial is absolutely delicious with ingredients that compliment the delicacy of the crab meat without overpowering it.
Ingredients
4

tbsp

Butter

3

tbsp

Flour

1

cup

Milk

1

lb

Crab Meat, Lump

1

Egg, beaten

1/2

cup

Pimiento, diced

,

Buy it sliced and dice it yourself

3

tbsp

Mayonnaise

1

tsp

Dry Mustard

Salt & Pepper, to taste

Old Bay Seasoning, to taste

1/2

cup

Bread Crumbs or Sliced Bread broken up into small pieces

Butter, thinly sliced
Instructions
Add butter, flour, and milk to a sauce pan and heat over medium heat, while stirring, until it's well blended and thickens. Allow to cool slightly.

Transfer your white sauce to a large bowl and mix in the crab meat, beaten egg, pimiento, mayonnaise, dry mustard, salt & pepper.

Place mixture into 4 crab shells, scallop shells, or individual baking dishes.

Sprinkle equal amounts of bread crumbs, Old Bay Seasoning, & thin slices of butter to cover the tops of each serving.

Bake in 350 degree fahrenheit oven for approximately 15 minutes. Then turn your oven on broil for 3 to 4 minutes, while keeping a close eye on them, to brown the tops.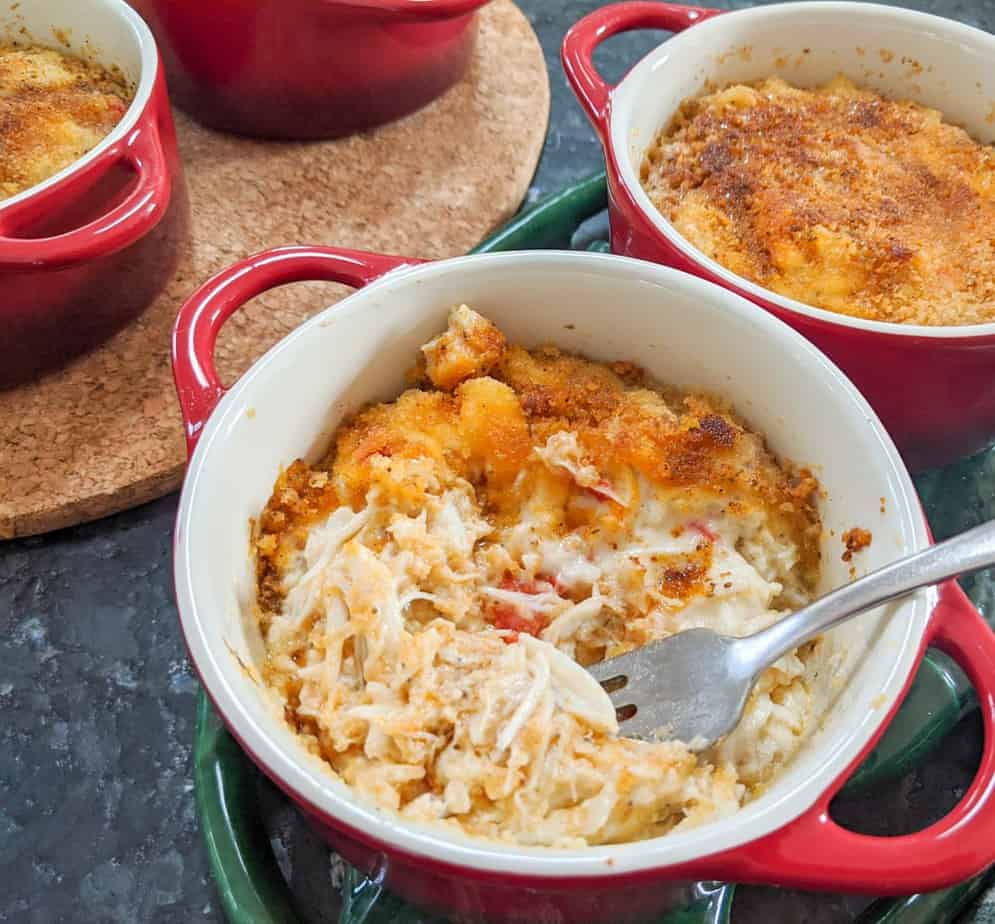 For more amazingly delicious, traditional Maryland crab recipes, click on over to:
Grand Prize Maryland Cream of Crab Soup
Maryland Deviled Eggs with Crab and Old Bay Seasoning