This easy crab melts recipe is perfect for when you've got a hankerin' for a delicious sandwich recipe, Maryland style!
Using lump crab meat and Old Bay Seasoning, every bite will take you back to all those crab feasts you enjoyed growing up.
Easy Crab Melts
Besides being absolutely delicious, these crab melts are incredibly easy to make and only take minutes to prepare.
In fact, once you've done a little bit of slicing, dicing and measuring, it's just a matter of mixing everything together, assembling the crab melts and popping them into the oven!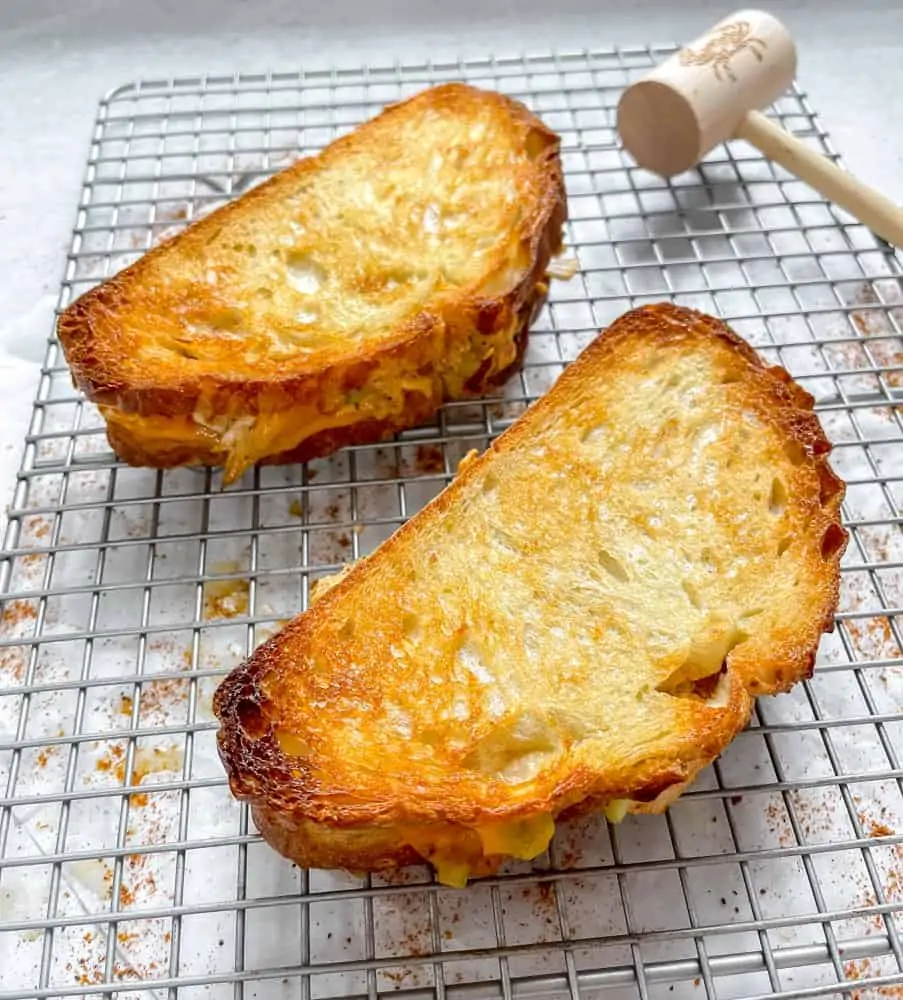 How To Make Crab Melts
This is one of those easy recipes that is very similar to any tuna melt recipe but instead of tuna you're using decadent crab meat!
One thing I've learned when it comes to recipes using crab meat is that you really don't want to overwhelm the taste of the delicate crab by adding too many ingredients.
As a matter of fact, I consider it an art form to use crab meat in a recipe and actually enhance the taste of the crab meat vs. covering it up!
So when I was developing this crab sandwich recipe, I kept this in the forefront of my mind!
In addition, while we're on the subject of crab recipes, you have to try out my other crab recipes, like my:
Crab Melt Ingredients
Here are the ingredients you'll need to make these exquisite crab melts: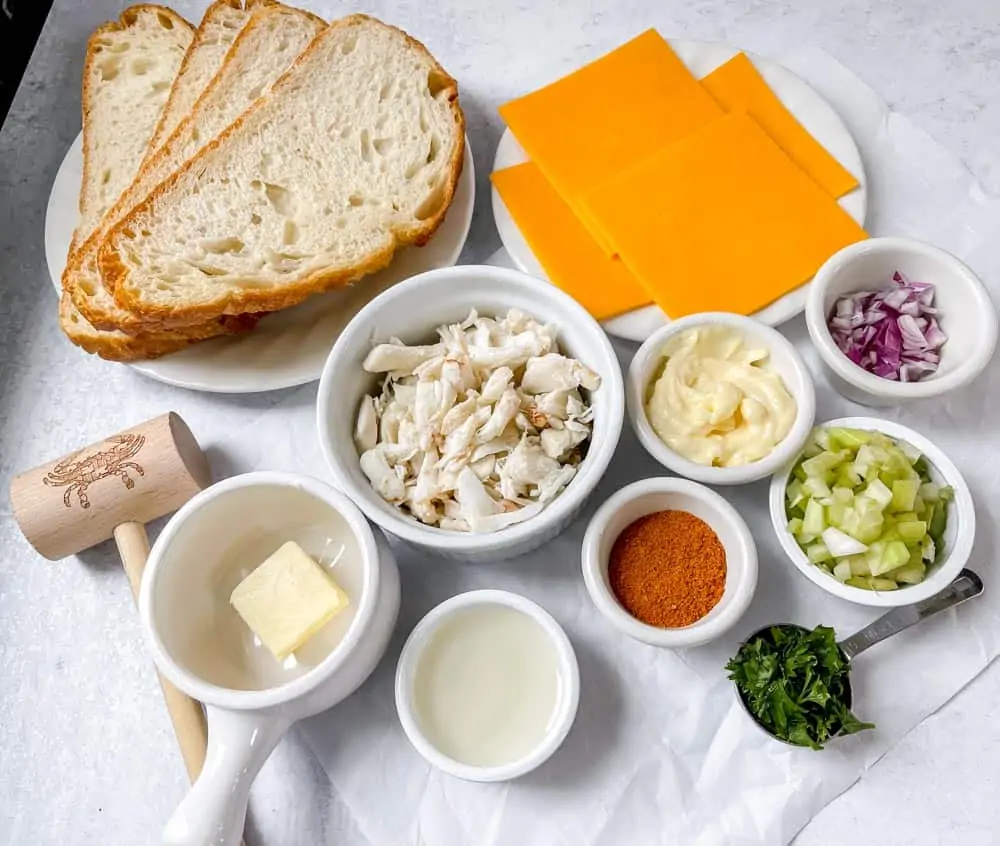 Step-by-Step Instructions
Step 1: Mix Mayo and Lemon Juice & Add in Crab Meat
First, in a medium bowl mix your mayonnaise and lemon juice until well combined.
Then add your lump crab meat and mix well.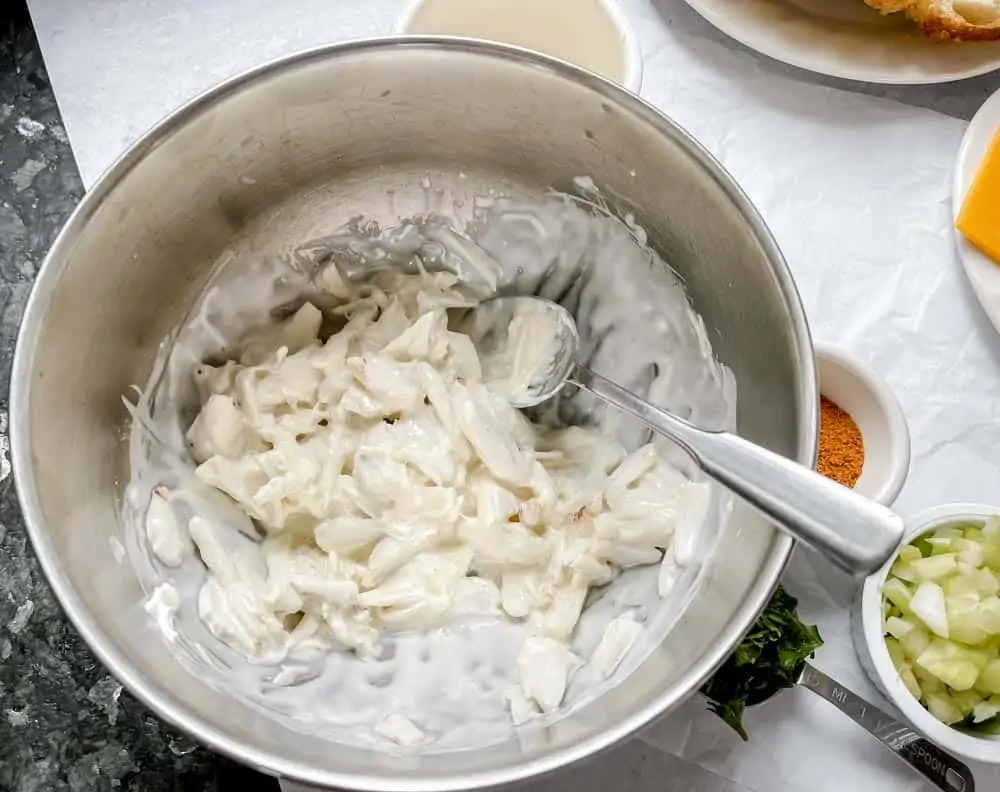 Step 2: Add Old Bay Seasoning, Celery, Red Onion, & Parsley
Now, add your Old Bay Seasoning, celery, red onion, parsley, and black pepper (to taste) to the crab mixture and mix well with a large spoon until completely combined.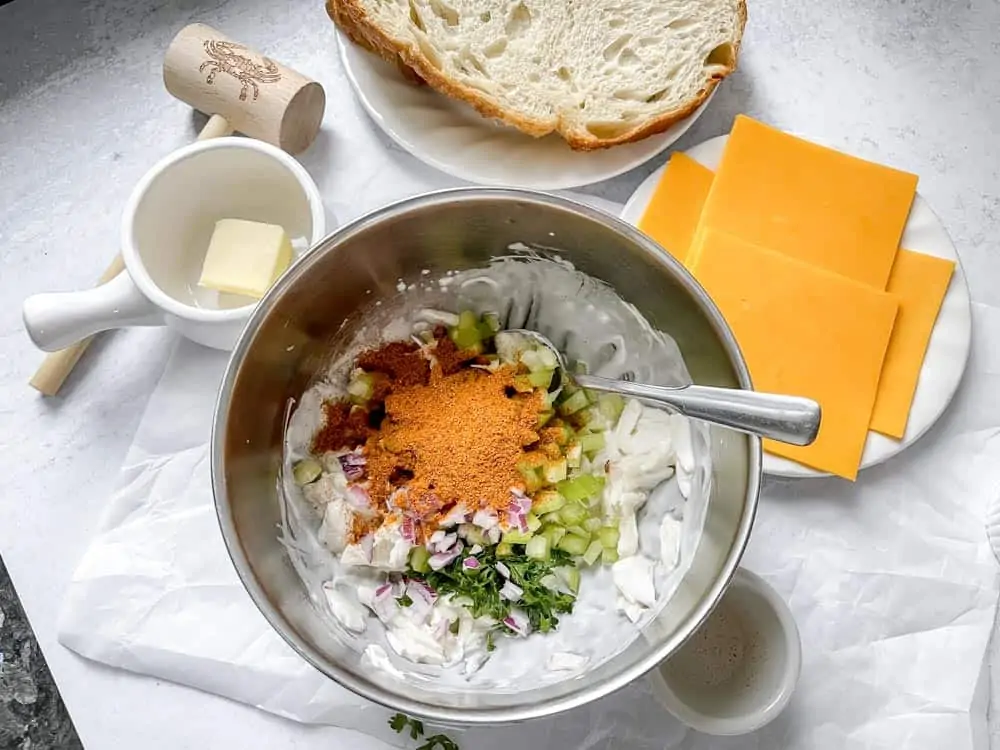 Step 3: Brush Melted Butter on Bread Slices and Top with Crab Meat Mixture
At this point, using a basting brush, generously brush one side of your bottom slices of bread with melted butter and place them, buttered face down, onto a broiling pan.
Then top each slice of bread with half of your crab mixture.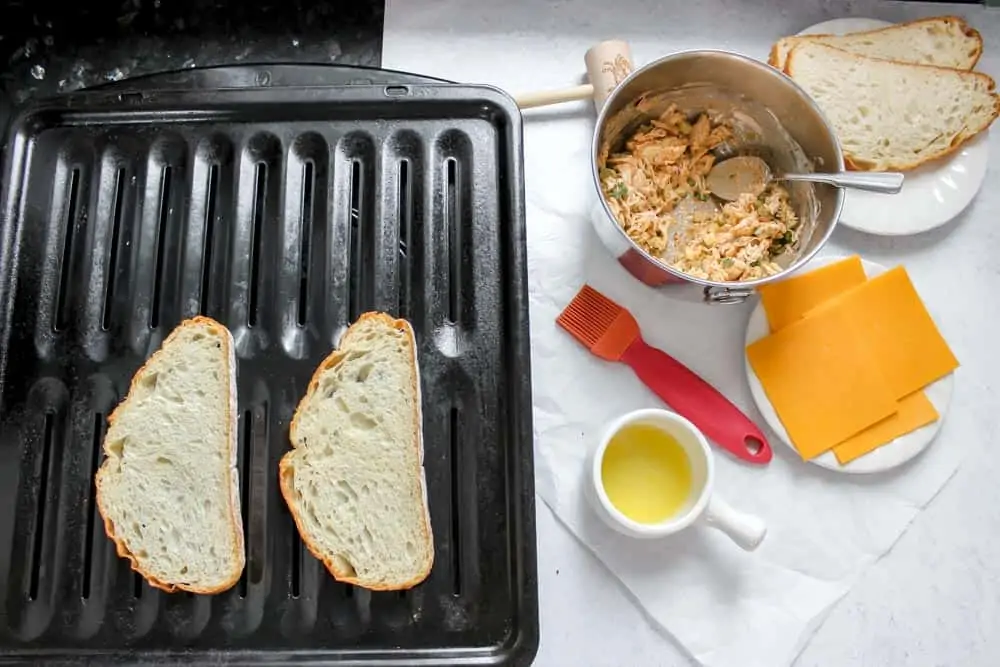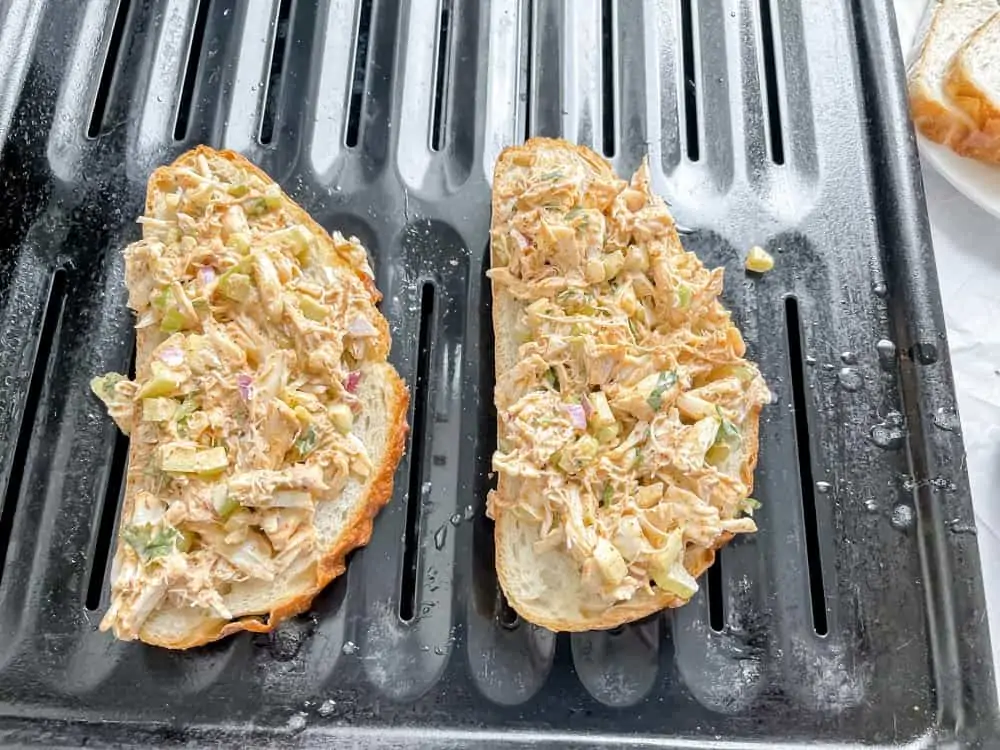 Step 4: Top Each Sandwich with Cheese & Buttered Bread Slices
Now, add a slice of cheese to each sandwich and then top with bread slices that have been brushed with butter, with the buttered side up.
Note: I like to place the cheese so that it's hanging over the edge of the bread a little bit.
That way when it bakes in the oven, you get that melty cheese effect. Mmm!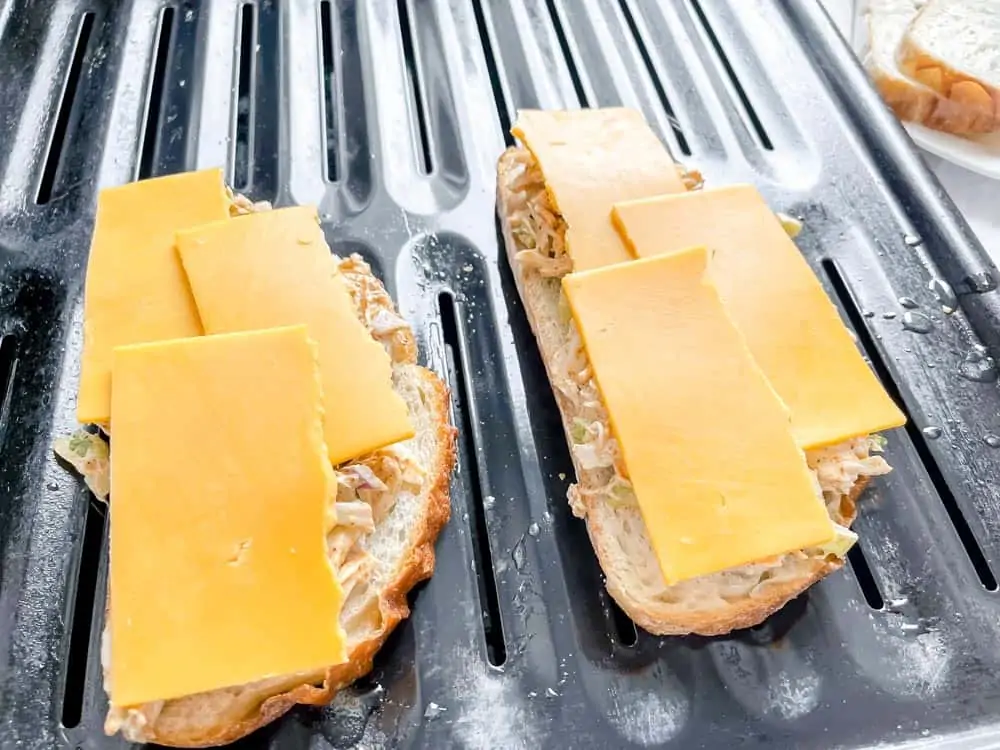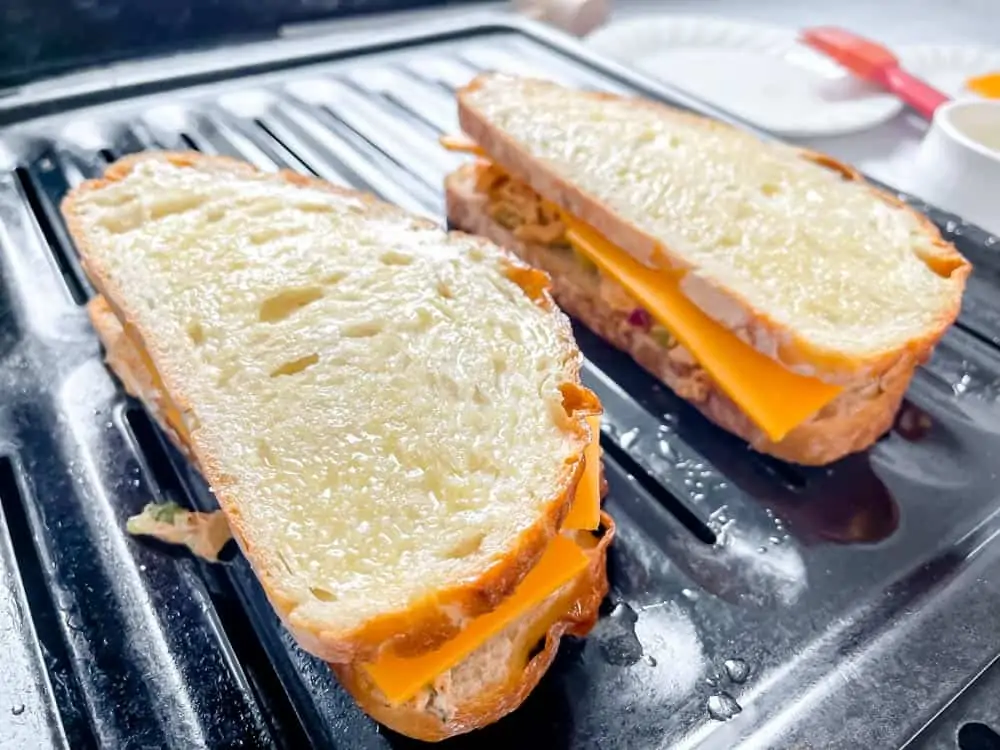 How To Cook Crab Melts
Finally, place your crab melts on a cookie sheet or broiler pan in a preheated 400 degrees Fahrenheit oven and bake for 5 minutes.
Then carefully flip your crab melts and bake for another 3 to 4 minutes.
After that, turn your oven on broil and let the tops toast for another 1 to 2 minutes.
It's very important that you keep a close eye on your sandwiches while they are broiling because they can go from toasty to burned in a split second.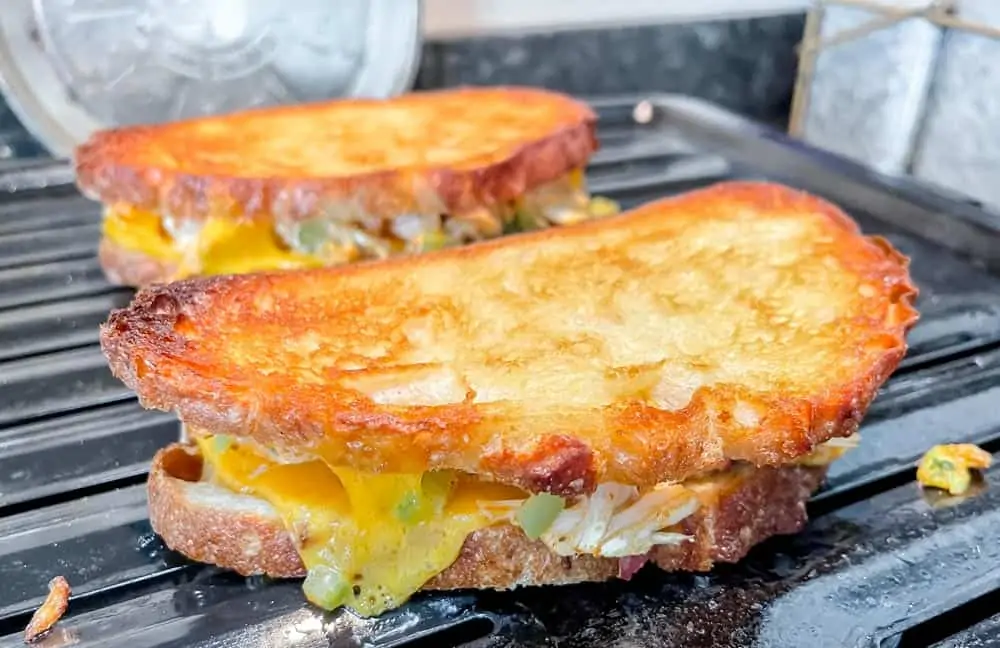 What Goes With Crab Melts
A great addition to your crab melt is to add tomato slices.
Personally, I don't like to heat up my tomato in the oven with the crab melts because it can make them a little bit soggy and less crispy.
So, adding the tomatoes after the sandwich is heated up is my preference.
In addition, because crab meat is already rich, these melts are very filling, so you might not even need a side to go with them.
However, it's always a nice idea to include a light side such as fruit or plain potato chips.
You don't want to include flavored potato chips because that will compete with the star of the show – your crab melts!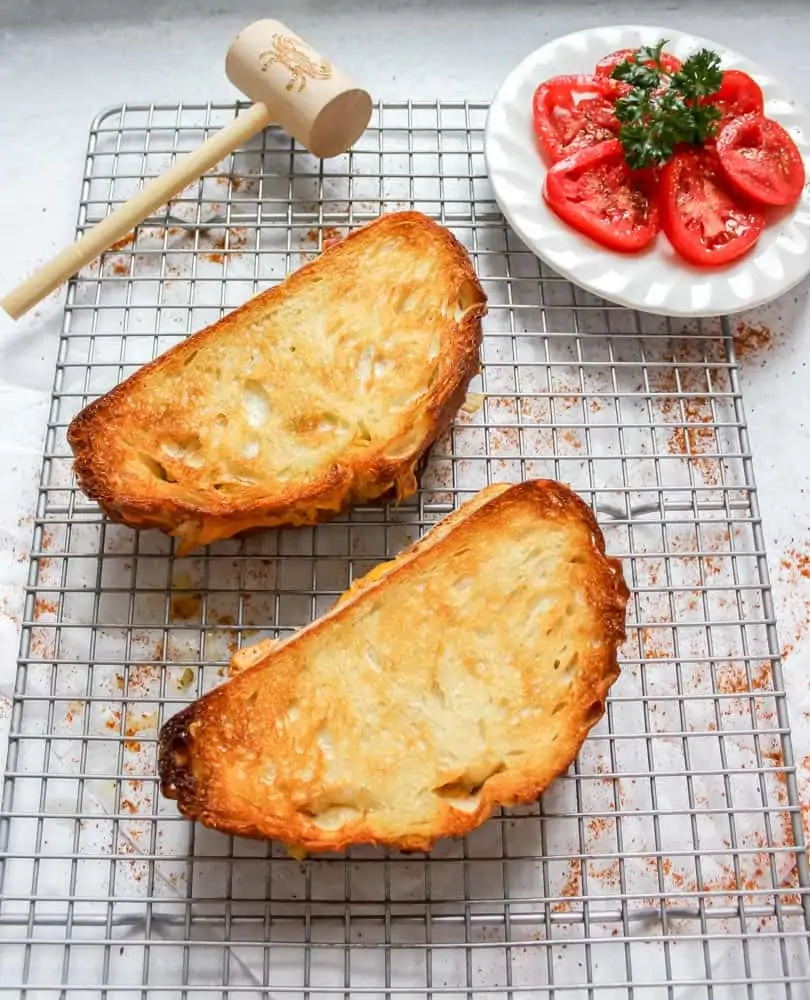 Tips, Tricks, & Substitutions
Do not use salt in this recipe! The Old Bay Seasoning has plenty of salt in it!
Get good quality lump crab meat.
It's really important to measure your ingredients because if you add too much of them, they will take over the flavor of the crab meat.
To give it a little more of a kick, add a few drops of hot sauce.
Other ingredient substitutions:

Green onions instead of red onions
Swiss cheese instead of cheddar cheese
For a more budget friendly option, use imitation crab
Best bread options:

Tuscan garlic bread
English muffins – make these melts open faced on each muffin half
French bread
Ciabatta roll
Sourdough bread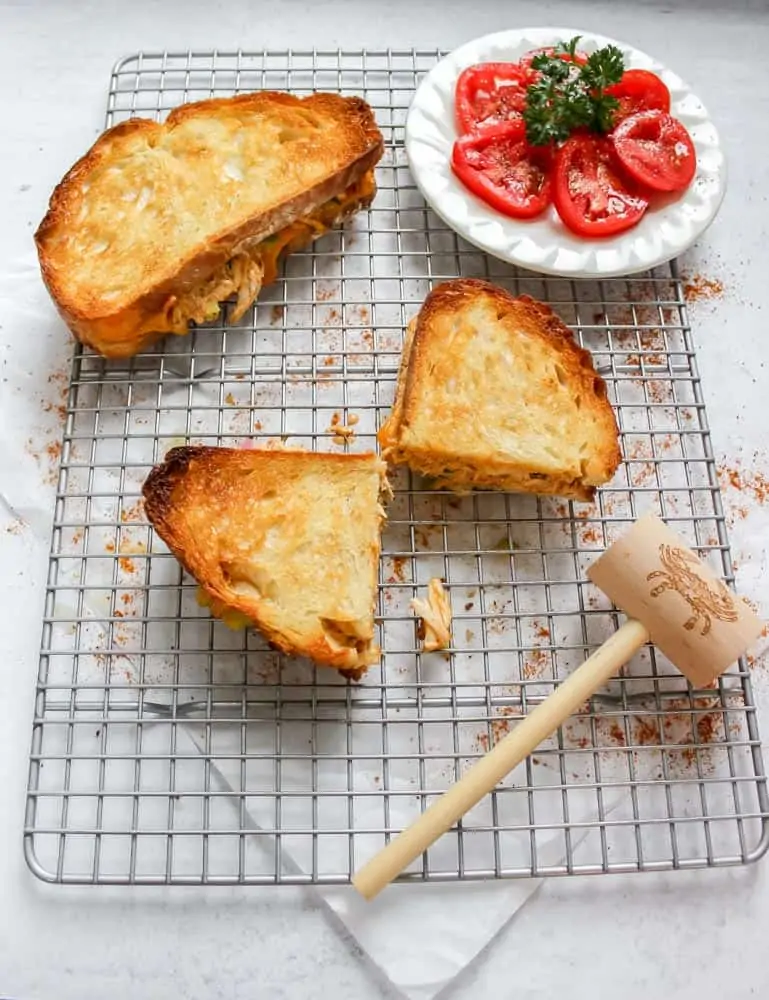 Can You Reheat A Crab Melt
Yes, you can definitely reheat your crab melt.
As a matter of fact, I made these crabby melts earlier in the day and then reheated them for my husband and son for dinner.
I placed them into the oven at 350 degrees Fahrenheit for about 10 minutes, just enough to heat them through and to see the cheese melting.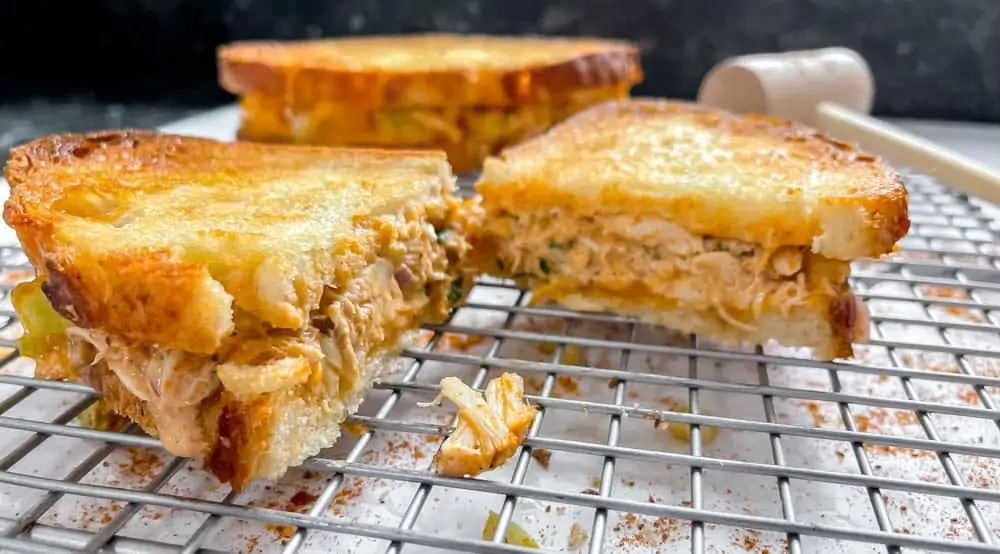 Can You Refrigerate Crab Melts
Yes, I placed my crab melts in ziploc baggies and refrigerated them for about 5 hours before I reheated them for dinner.
They reheated beautifully!
And, by all means, if you have leftovers, save what's left and refrigerate them for 1 to 2 days.
However, if your family is like mine, your crab melts will be eaten up in no time.
As a matter of fact, I asked my husband if he had any suggestions for my recipe and he said 'Make me more!'
I'd say that's a great seal of approval!
Crab Melts Recipe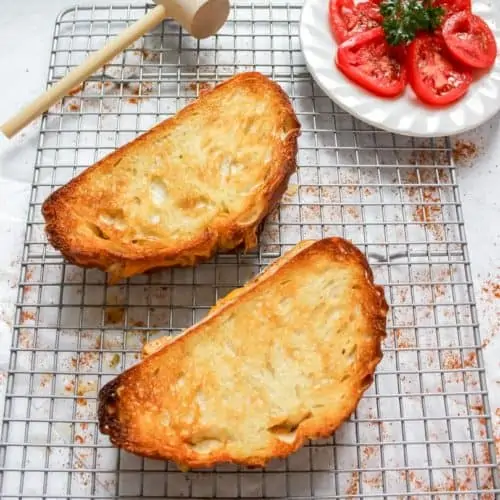 Easy Crab Melts with Old Bay Seasoning
A delicious, easy-to-make alternative to the every day tuna melt is this decadent crab melt recipe!
Ingredients
3

tbsp

Mayonnaise

1

tbsp

Lemon Juice

½

tbsp

Old Bay Seasoning

6

ounces

Crab Meat, Lump

2

stalks

Celery, diced

⅛

cup

Red Onion, diced

1

tbsp

Parsley, fresh, chopped

Black pepper, to taste

4

slices

Bread

3

tbsp

Butter, melted

4

slices

Cheddar Cheese

1

Tomato, sliced

,

Optional
Instructions
Preheat oven to 400 degrees Fahrenheit.

In a medium bowl, whisk together lemon juice & mayonnaise until well blended.

Add crab meat to mayonnaise mixture and blend well.

Then add Old Bay Seasoning, diced celery, diced red onion, chopped parsley, and black pepper (to taste) & mix to combine.

On a broiling pan or baking sheet, brush one side of 2 bread slices and place buttered side down. Top the unbuttered sides with the crab mixture & cheddar cheese.

Then add the other 2 slices of bread with the buttered sides facing up.

Place pan in oven and bake for 5 minutes. Then carefully flip the sandwiches over and bake for another 4 minutes.

Turn your oven on broil and broil for 1 to 2 minutes until sandwiches are a nice golden brown. Keep a close eye on the sandwiches while broiling in order to prevent burning.

Optional: Add tomato slices to the insides of your crab melts immediately before serving.
For more delicious crab recipes, click on over to: