This super easy Couscous Bowl with Meatballs & Tzatziki will totally satisfy your craving for a good Greek gyro!
Although this recipe is not a traditional Greek dish, adding tzatziki and fresh veggies to meatballs and couscous will totally make you want to take your next trip to the Mediterranean!
In addition, after making this couscous bowl recipe, you'll want to make tzatziki sauce a lot more often!
Easy Couscous Bowl Recipe
For some reason, when making tzatziki, I thought you had to do something weird with straining the yogurt with cheese cloth?
Who knows. But it's not true.
Fun Fact: I've always loved Greek food!
Maybe it's that 1% Greek I recently discovered I have in my DNA.
Whatever the reason, Greek food is just so delicious!
Here's an article on 25 Iconic Greek Foods You Have to Try At Least Once.
Obviously, tzatziki is on the list!
What is Couscous?
First of all, what is couscous?
Couscous originated from North Africa and has been a dish served there for centuries.
Specifically, couscous is made of small granules of rolled durum wheat semolina.
Traditionally, couscous is steamed and served with stew.
As a matter of fact, I have an amazing North African Meatball Stew recipe here on the blog.
For some reason, I served it over rice in the blog post
However, it's just as good, if not better, and of course more authentic when served over couscous.
How Do You Prepare Couscous?
Preparing couscous is very similar to preparing rice.
Just boil water in a saucepan, add the couscous, cover, and reduce the heat to a low simmer until the couscous absorbs all of the water.
Be sure to frequently stir the couscous with a large spoon during the steaming process in order to prevent it from sticking to the bottom of the pan.
Depending on the amount of couscous you are preparing will determine the amount of water you boil.
Overall, follow the directions on the container that the dry couscous is in.
How Healthy is Couscous?
Couscous is definitely healthier than other grains like rice.
For example, couscous has lower calories than the same amount of rice.
In addition, it has 2 grams of fiber per cup and 6 grams of protein.
Whereas, rice has 30 more calories, less than 1 gram of fiber and 4 grams of protein per cup.
Tzatziki Pronunciation
How do you pronounce tzatziki?
So, I struggle with it every single time, but you're supposed to say it like tsah-see-key.
After making this Greek Bowl recipe, you'll become a pro at saying tzatziki because everybody is going to ask for this recipe!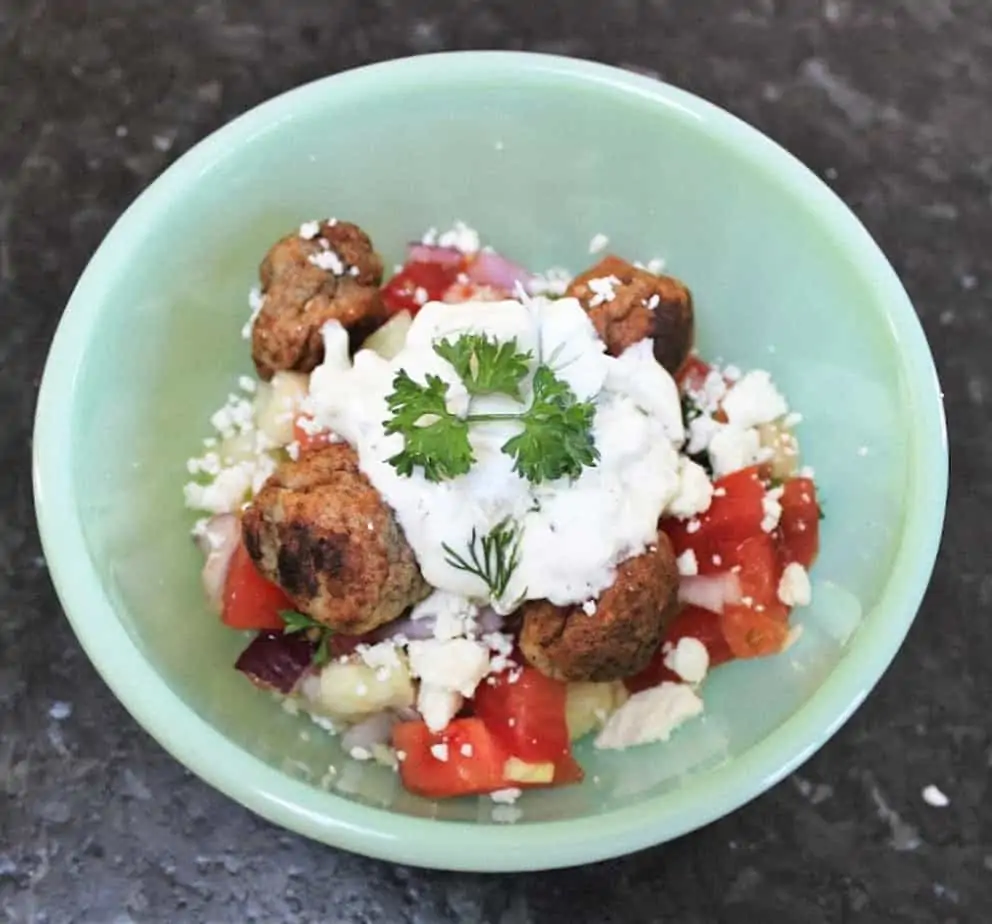 Traditional Greek Food Ingredients
Traditional Greek food ingredients include:
Olive oil
Herbs
Tomatoes
Beef
Cheese
Pork
Lamb
Fish
Shrimp
Yogurt
Honey
Olives
Although this Couscous Bowl isn't on the list of authentic Greek dishes, it includes all of the ingredients that a Greek dish would have.
Couscous Bowl Ingredients
Specifically, this couscous bowl recipe includes:
Greek Yogurt
Cucumber
Minced Garlic
Olive Oil
Fresh Dill
Sea Salt (Amazon)
Black Pepper
Lemon Juice
Frozen Meatballs
Tomato
Red Onion
Fresh Parsley
Couscous (Amazon)
Feta Cheese
Step 1: Make the Tzatziki Sauce
First, you'll want to make the tzatziki sauce.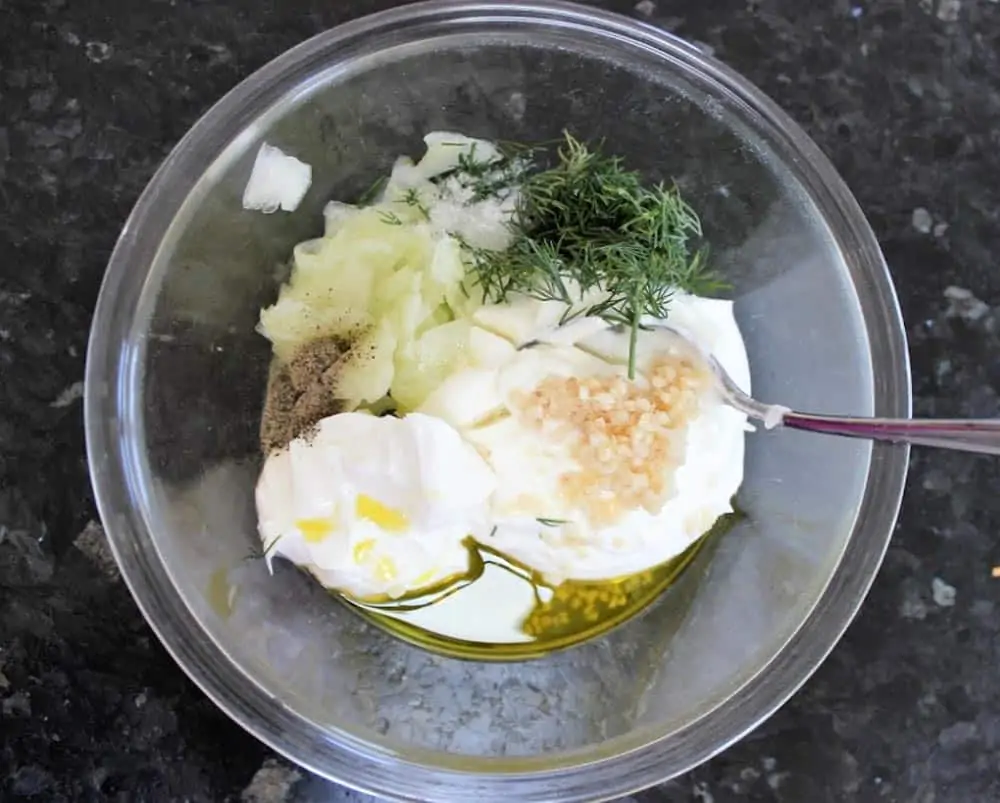 Blend all the ingredients well and then cover it and put it in the refrigerator to chill while you're preparing the rest of the recipe.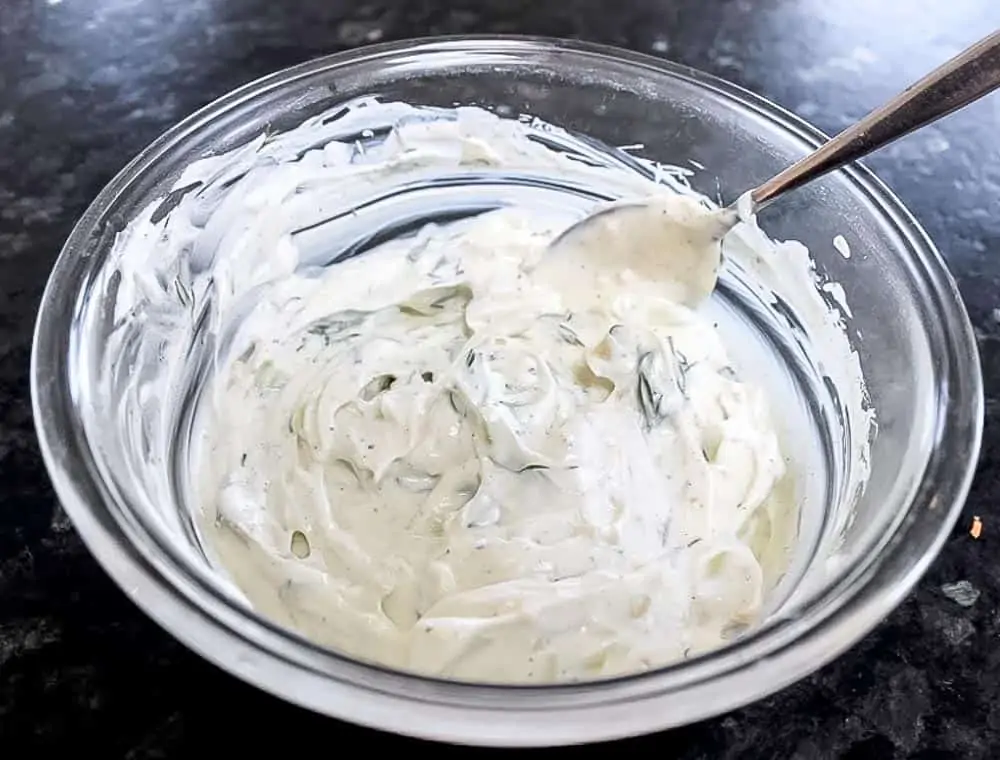 Step 2: Cut up Your Veggie Ingredients
Second, cut up the tomatoes, red onions, cucumbers, and parsley.
And by the way, be careful with the quantity of red onions.
I tend to throw in more than what the recipe calls for, but in this case, stick to the 1/2 cup.
Needless to say, while eating my Couscous Bowl, I had to pick out a lot of the red onions because they were overpowering the other ingredients.
Clearly, I love a hint of red onion, but no more than that.
On the other hand, be generous with the parsley.
It really adds a nice flavor to the dish!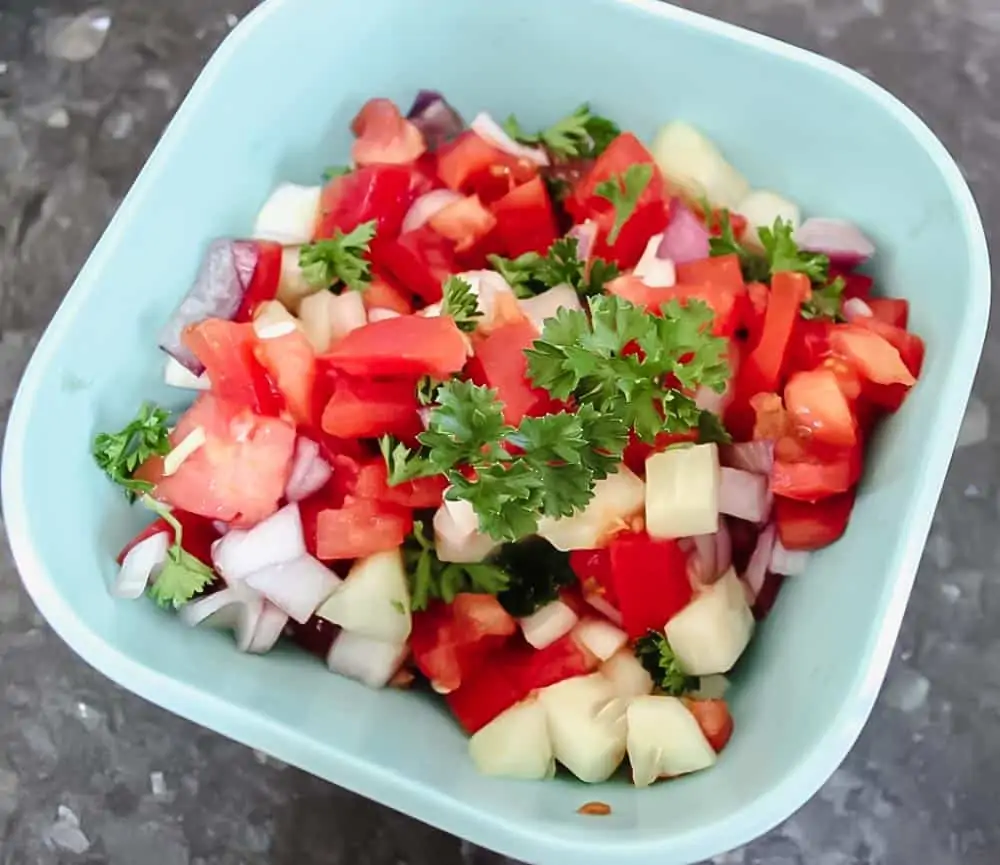 Step 3: Prepare the Meatballs
Third, prepare the meatballs.
Full disclosure: I just buy my favorite frozen meatballs and throw them in the oven.
Obviously, you can make homemade meatballs, as I'm sure that would be tastier.
However, when you're short on time and just want something easy but still delicious, frozen meatballs are your friend!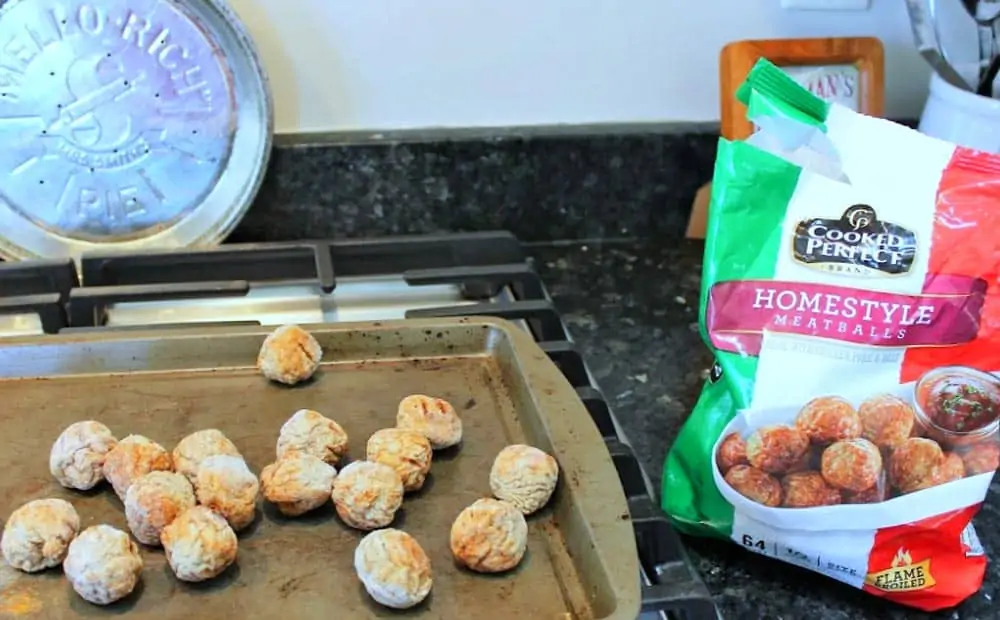 Step 4: Cook the Couscous
Fourth, while the meatballs are cooking in the oven, prepare the couscous.
I absolutely love me some couscous!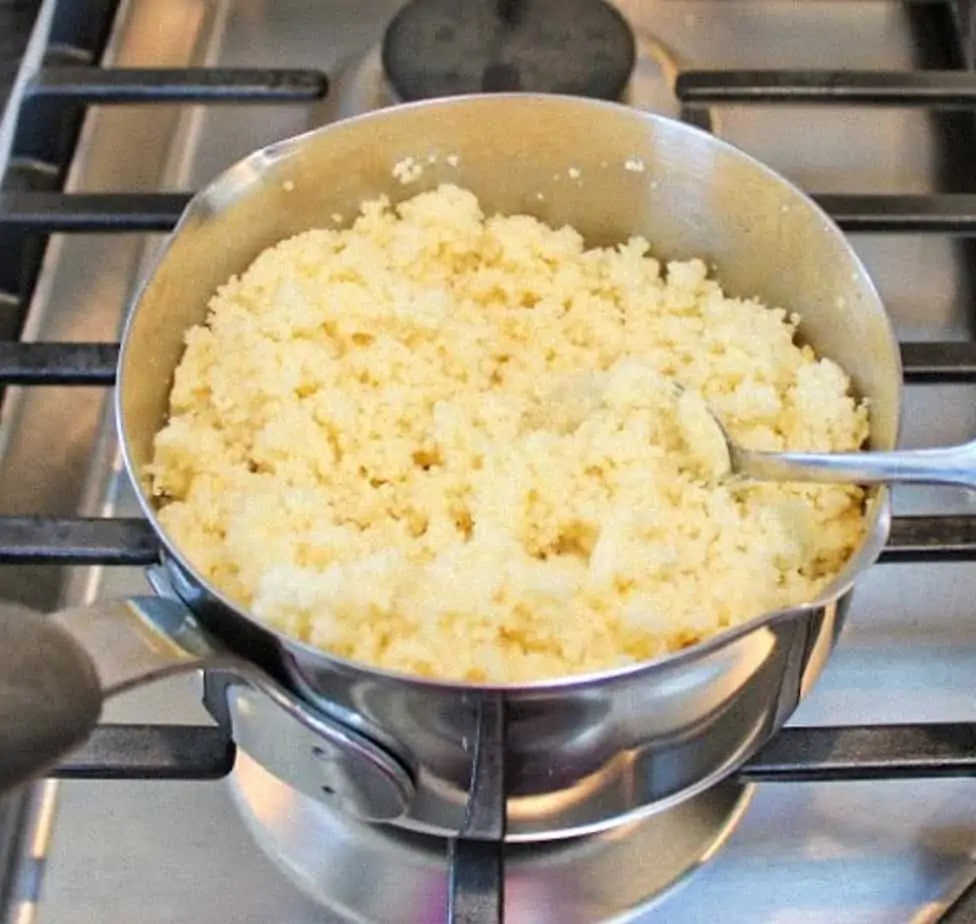 Step 5: Assemble Your Couscous Bowl
Finally, assemble your Couscous Bowl!
This is where you throw on some crumbled feta cheese.
Mmmm! So good!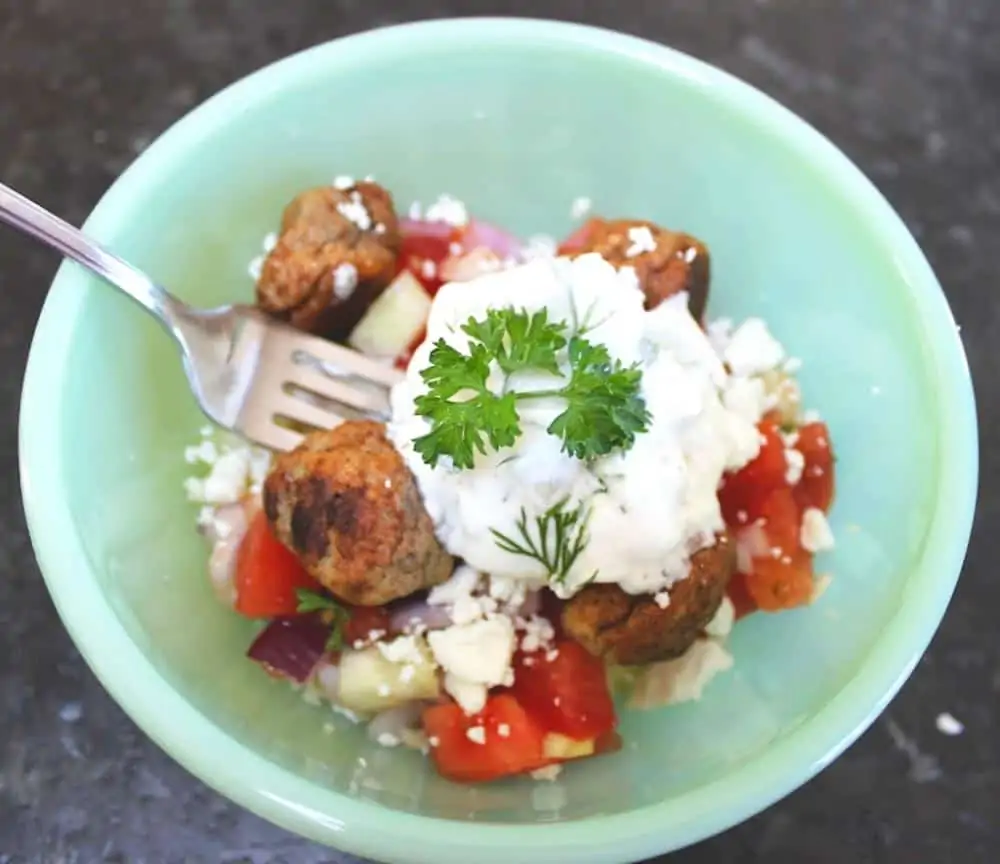 Couscous Bowl with Meatballs & Tzatziki Recipe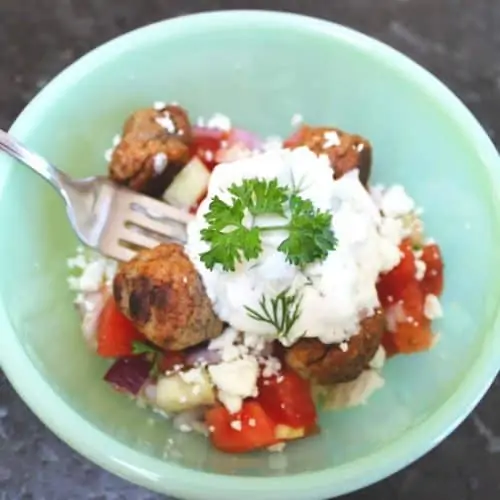 Couscous Bowl with Meatballs & Tzatziki
Super easy Couscous Bowl recipe with meatballs, onions, feta cheese, & tzatziki sauce. It will totally satisfy your gyro craving!
Ingredients
1

cup

greek yogurt

¼

cup

grated cucumber

1

tsp

minced garlic

1

tsp

olive oil

1

tbsp

fresh dill

¼

tsp

kosher or sea salt

¼

tsp

black pepper

1

tbsp

fresh lemon juice

20

frozen meatballs

,

I use homestyle

1

cup

cucumber, finely diced

1

cup

tomato, finely diced

½

cup

red onion, finely diced

1

tbsp

fresh parsley

salt & pepper to taste

4

servings

cooked couscous

½

cup

feta cheese
Instructions
Combine yogurt with grated cucumber, minced garlic, olive oil, fresh dill, salt, pepper and fresh lemon juice.

Mix well. Cover and refrigerate until ready to serve.

In a separate bowl, combine diced cucumbers, tomatoes, red onion, parsley, salt & pepper.

Then, place frozen meatballs in oven and cook according to directions on the package.

While meatballs are cooking, prepare couscous according to box directions.

Once meatballs and couscous are ready, assemble your bowl.

First add couscous, then add veggie mixture, then top with 5 meatballs. Top with tzatziki sauce and feta cheese. Then garnish with parsley.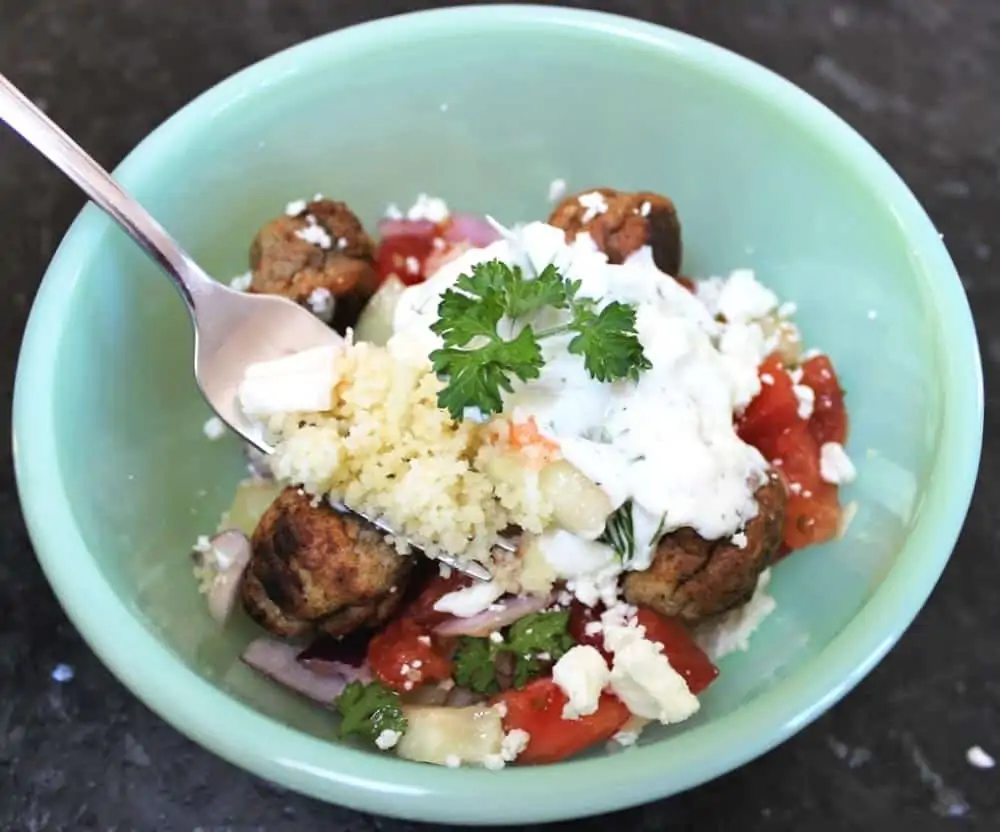 This Couscous Bowl recipe was so good, I know I'll be making it a lot!
What are your favorite couscous dishes?
Let us know in the comments!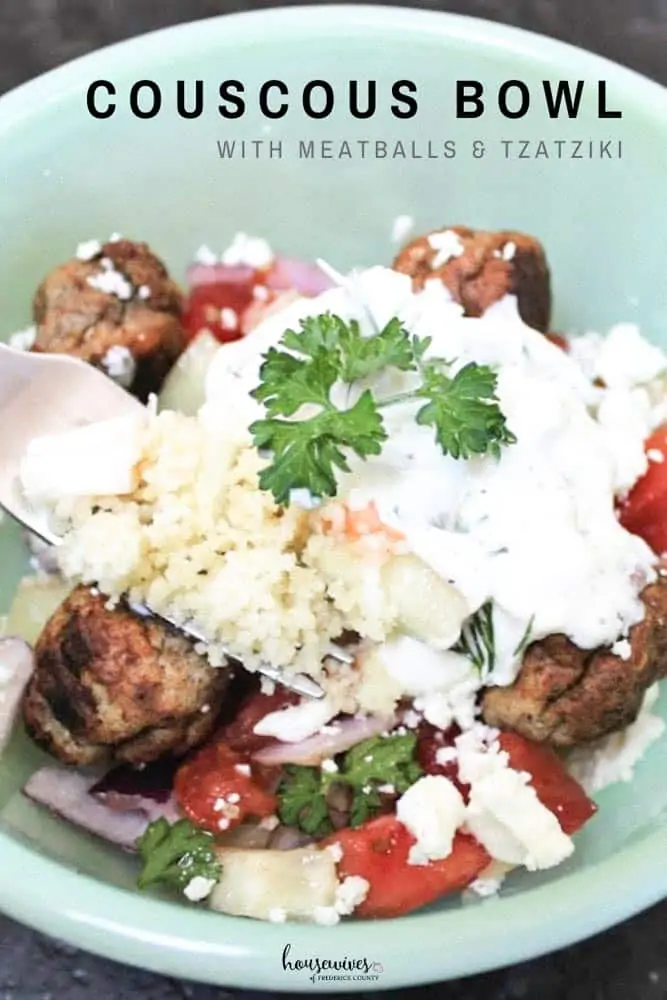 In the meantime, here are some other bowl recipes you'll enjoy: