Looking for some fun things to do over the weekend in Frederick, MD Friday, 12/19/14 to Sunday, 12/21/14?  Well you've come to the right place!
We've got a list of activities to keep you busy all weekend, Friday through Sunday.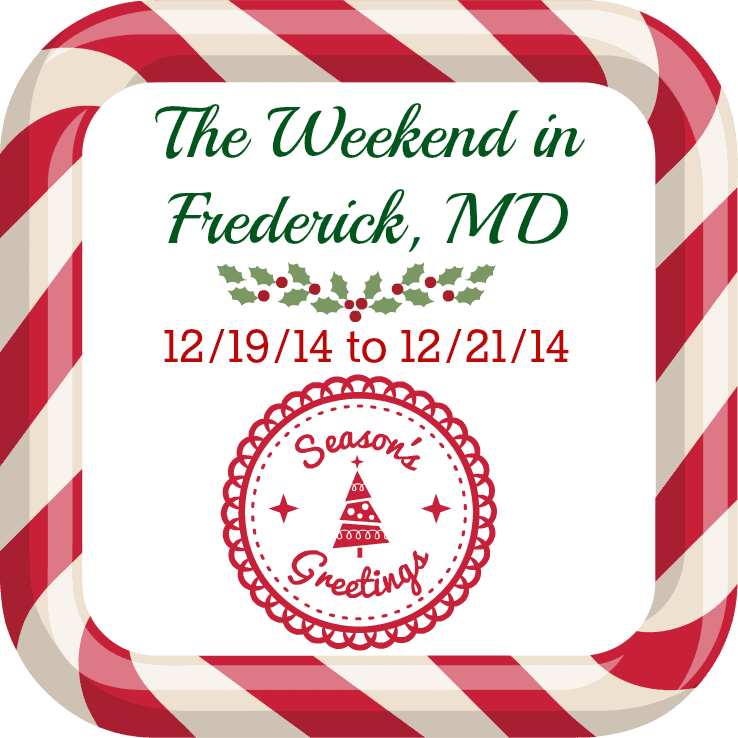 LET US KNOW IF YOU HAVE AN EVENT THAT YOU WOULD LIKE INCLUDED IN THIS POST BY ADDING IT TO THE COMMENTS SECTION AT THE BOTTOM OF THIS PAGE.  THANK YOU!
Click on the links below for more information on each event.
The Weekend in Frederick, MD 12/19/14 to 12/21/14
Friday, December 19, 2014
Memory Café Luncheon at the Frederick Senior Center
Allview Holiday Lights Contest for Frederick County Food Bank
Free Admission to Museum of Frederick County History
Free Movie Night at Wegman's: Horton Hears A Who at 6pm in the Fireside Room
A Revolutionary Christmas at the MET
A Christmas Carol at the Weinberg Center
Saturday, December 20, 2014
Breakfast with Santa at the Thurmont American Legion
Gingerbread House Building at the Common Market
Allview Holiday Lights Contest for Frederick County Food Bank
Free Admission to Museum of Frederick County History
A Revolutionary Christmas at the MET
Junie B. Jones In Jingle Bells, Batman Smells at the MET
Ghost Tours of Historic Frederick
Three Saturdays in Downtown Frederick
Holiday Weekend Carriage Rides through 12/28/14
A Christmas Carol at the Weinberg Center
Junie B. Jones in Jingle Bells, Batman Smells at the MET
God Thru the Arts Concert at the National Shrine of Saint Elizabeth Ann Seton
"Elves" Film at the MET – Free Screening at Midnight – For Mature Audiences Only
Sunday, December 21, 2014
Free Admission to Museum of Frederick County History
A Revolutionary Christmas at the MET
Junie B. Jones In Jingle Bells, Batman Smells at the MET
Holiday Weekend Carriage Rides through 12/28/14
A Christmas Carol at the Weinberg Center
Junie B. Jones in Jingle Bells, Batman Smells at the MET
Mystery of the Christmas Star Planetarium Show at the FCPS Ausherman Planetarium
Places to Get Your Christmas Tree
Dreamland Christmas Tree Farm – through 12/24
Mayne's Tree Farm – through 12/23
Marshall Tree Farm – through 12/24
Urbana Volunteer Fire & Rescue – through 12/23