Tis the Season! It's time for shopping, decorating, preparing your home for guests, cooking, wrapping presents and …….going to see a live show! I know, I know – how in the world is there time between all of these things that we all need to do to go see a show? Well, life is definitely what you make it, and if you don't make the time to spend with friends and family during this holiday season, it's just not going to happen. If you live in or near Frederick, MD you have such a variety of shows to choose from!
We are so lucky, here in Frederick, to live in such a culturally diverse community, which is home to many theatre companies and venues! Our oldest and most acclaimed theatre is The Weinberg Center for the Arts. The Weinberg was originally built on December 23, 1926 and was named the Tivoli theatre, and then renamed The Weinberg on February 9, 1978. The history of this theatre is so interesting and can be found at the link above. The Weinberg truly is a center for the arts as they offer performances ranging from music, to live theatre, to comedy, to silent movies!
Other live theatre offerings in Frederick:
Fredericktowne Players – a non-profit community theatre
Maryland Ensemble Theatre – an ensemble theatre which also offers acting classes and acting opportunities for members of the community
Way Off Broadway Dinner Theatre and Children's Theatre – a fine dining and first class live stage show theatre; also offers classes
Thurmont Thespians – a non-profit community theatre organization which also offers a free summer workshop for children and teens; profits are donated to charity
Act Too! Theatre Company – offers theatrical training and performance opportunities; fee
Valley Theatre – stages musical theatre productions each year to benefit disadvantaged families and disabled/needy children in the Middletown Valley community and beyond
Maryland Shakespeare Festival – a professional, innovative and classic theatre company which offers free outdoor performances of Shakespeare's plays each summer
Other Voices Theatre – a theatre and dance repertory company, fee
Now playing at some of these theatres this holiday season: "The Best Christmas Pageant Ever" (Fredericktowne Players; "Christmas Carol" (Maryland Ensemble Theatre at the Weinberg Center); "It's A Wonderful Life, A Live Radio Play" (Maryland Ensemble Theatre); "A Night of Hollywood, Elf Man Premiere" (Weinberg Center); Academy of St. Cecilia youth Orchestra (Weinberg Center); The Sicilian Tenors (Weinberg Center); "The Nutcracker" (Maryland Regional Ballet at the Weinberg Center); 18th Annual Messiah Sing-Along (Weinberg Center); "Frosty the Snowman" (Other Voices Theatre); Winter Variety Show 2012, Christmas Edition (ACT Too!). Please click on the links above for details on the theatre/show you are interested in.
I will write a future post about the other side of the stage – acting! I was never involved in theatre, in any way, until my 6 year old son was cast in Fredericktowne Players' "A Christmas Story" several years ago. It was the beginning of a wonderful experience for my son and our family! I will end this post with a picture of him in his second show ("Gypsy"). Now, go see a show!!!!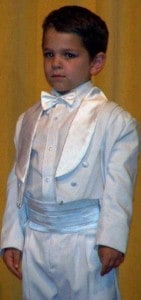 Pam is married and has 1 son – a middle-schooler in his teen years. She followed Terri to Frederick in 1999. She absolutely loves going to yard sales and estate sales and finding hidden treasures.
read more...