My son is 9 years old and, as with most children, he's gotten sick many times in his life.  Being his mom, I want to make sure that whenever he is sick, I know whether or not he has a fever, along with his other symptoms.  This is very important in determining if he'll go to school and more importantly, if he needs to see his pediatrician.
Pumpkin Soup & How To Easily Get An Accurate Temperature
Because Terri and I are bloggers and live in the Washington, DC area, we were invited by a public relations firm to a Chef Comfort Food Demonstration and Luncheon at Chef Geoff's in Washington, DC.  In addition, representatives from Braun would be there to present their latest technology in thermometers.  We were going to learn how to make pumpkin soup from the Chef and also how to easily get an accurate temperature with Braun's latest thermometers.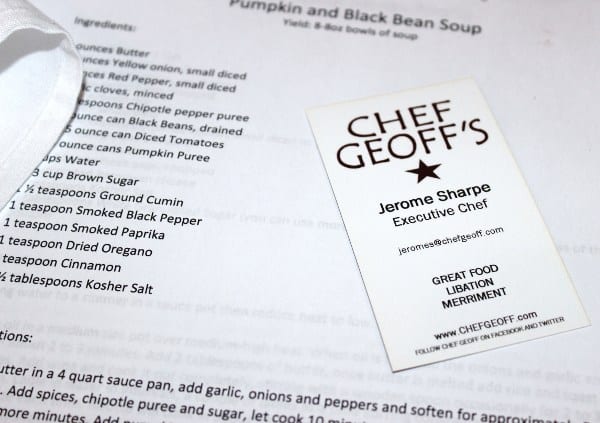 Executive Chef, Jerome Sharpe, was our Chef for the afternoon.  We were totally in for a treat!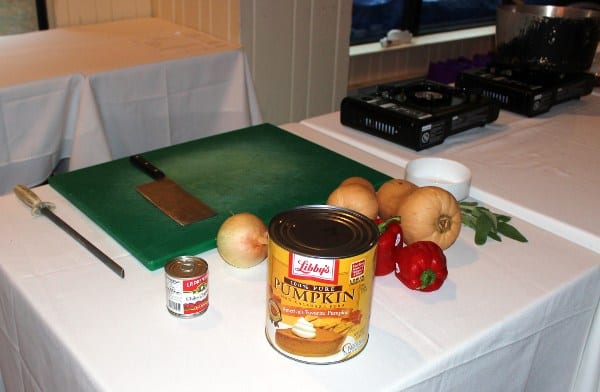 Our servers were at the ready to serve us our 5 course meal.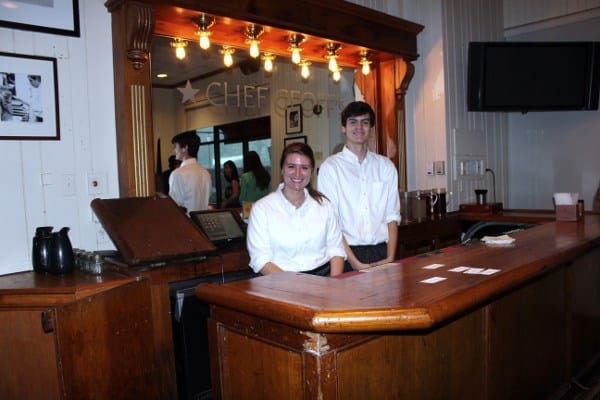 During our luncheon and presentation, Terri and I had the opportunity to meet other local DC bloggers.  It's always nice to meet and network with other bloggers.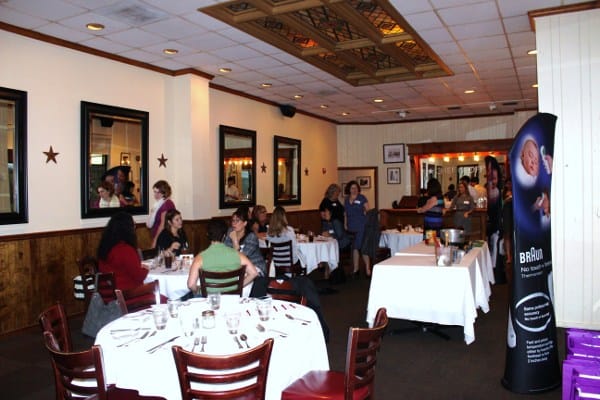 Our first appetizer was a fried risotto ball.  Mmmm!  Very tasty!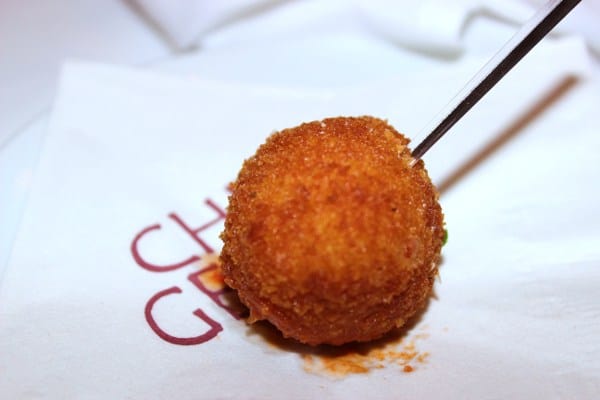 As we were enjoying our appetizers, Chef Sharpe explained, step by step, how to prepare his Pumpkin & Black Bean Soup recipe.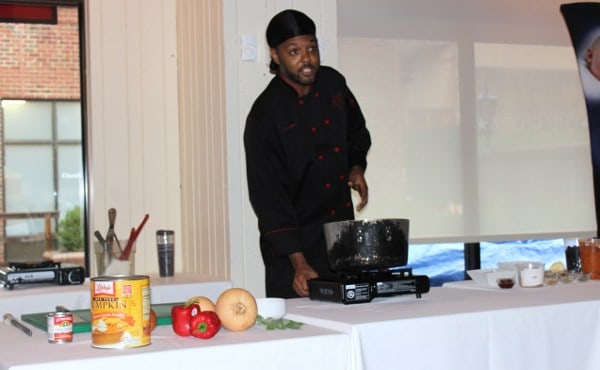 Our second appetizer was a mini crab cake with aioli sauce.  So good!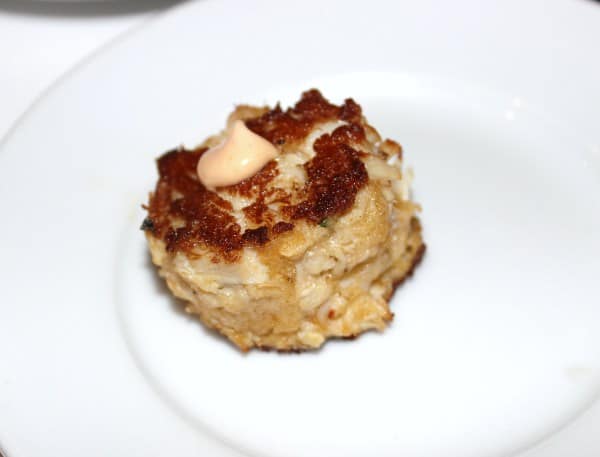 As he added the finishing touches to the soup, we were served our first course.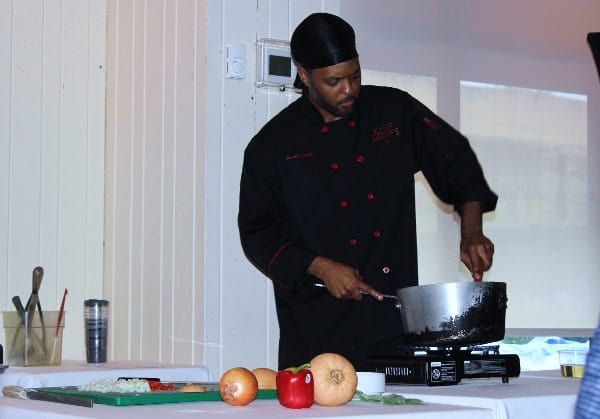 This soup is comfort food at it's finest.  Something a chef prepared but also you can make at home.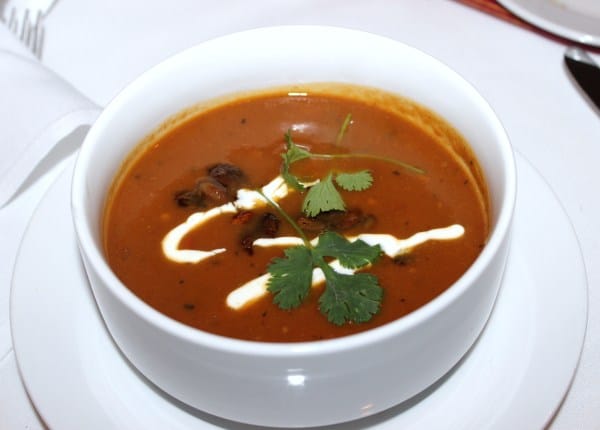 Here is a printable version of Chef Sharpe's Pumpkin and Black Bean Soup: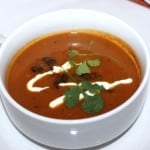 Print Recipe
Pumpkin & Black Bean Soup
Ingredients
- 3 oz butter

- 6 oz yellow onion

small diced

- 9 oz red pepper

small diced

- 3 garlic cloves

minced

- 2 tablespoons chipotle pepper puree

- 1 15oz can black beans

drained

- 1 14.5oz can diced tomatoes

- 2 15oz cans pumpkin puree

- 5 cups water

- 2/3 cup brown sugar

- 1 1/2 teaspoons ground cumin

- 1 teaspoon smoked black pepper

- 1 teaspoon smoked paprika

- 1 teaspoon dried oregano

- 1 teaspoon cinnamon

- 1 1/2 tablespoons kosher salt
Instructions
Melt butter in a 4 quart sauce pan.

Add garlic, onions and peppers and soften for approximately 5 minutes.

Add spices, chipotle puree and sugar and let cook 10 minutes.

Add black beans and tomatoes and let cook 10 more minutes.

Add pumpkin puree, water and salt.

Let simmer at least one hour stirring often.

Taste to make sure the flavors have developed and the raw vegetable flavor is gone.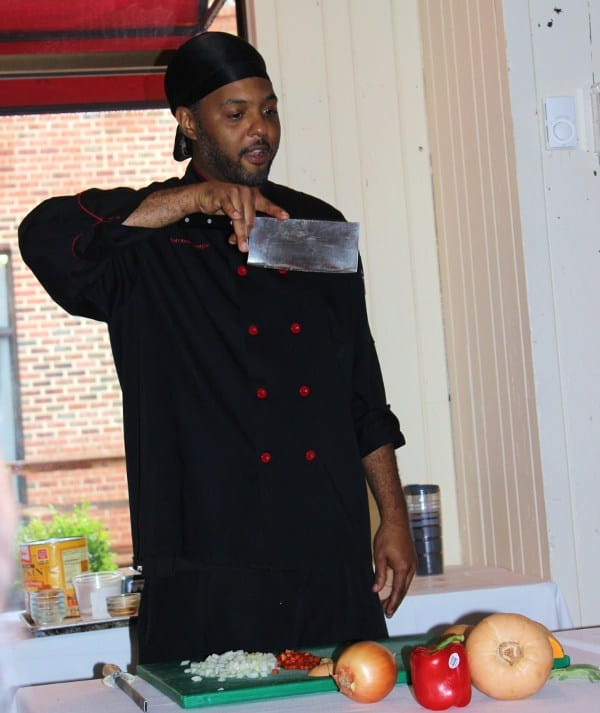 Here is Chef Sharpe demonstrating how to hold a knife correctly when slicing onions.  Always place one hand on the handle and the other hand flat on top of the knife in order to prevent getting cut.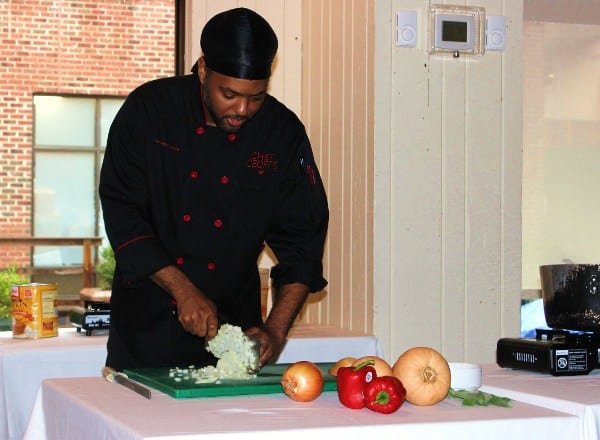 Preparing the risotto for our next course.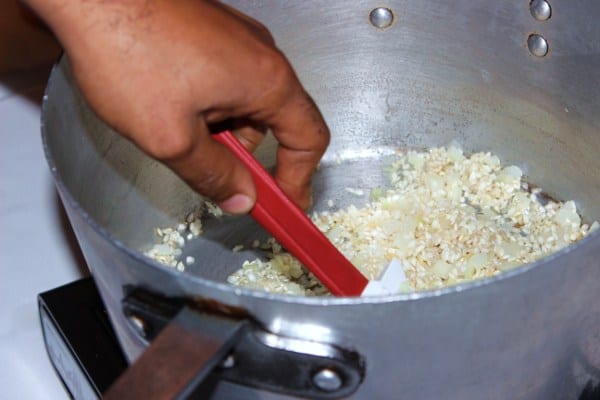 Our main course was Chef Geoff's Butternut Squash Risotto with seared scallops.  It was nothing short of amazing!  Stay tuned for this recipe in a future post!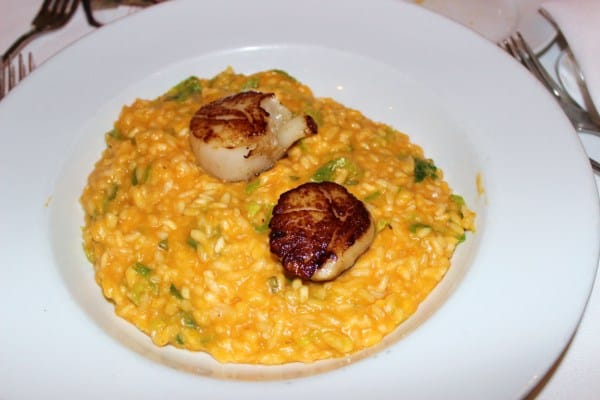 Last, but certainly not least, was the preparation of the Apple Fritters.
They were divine!  If you'd like to make them yourself, here is the Apple Fritter Recipe.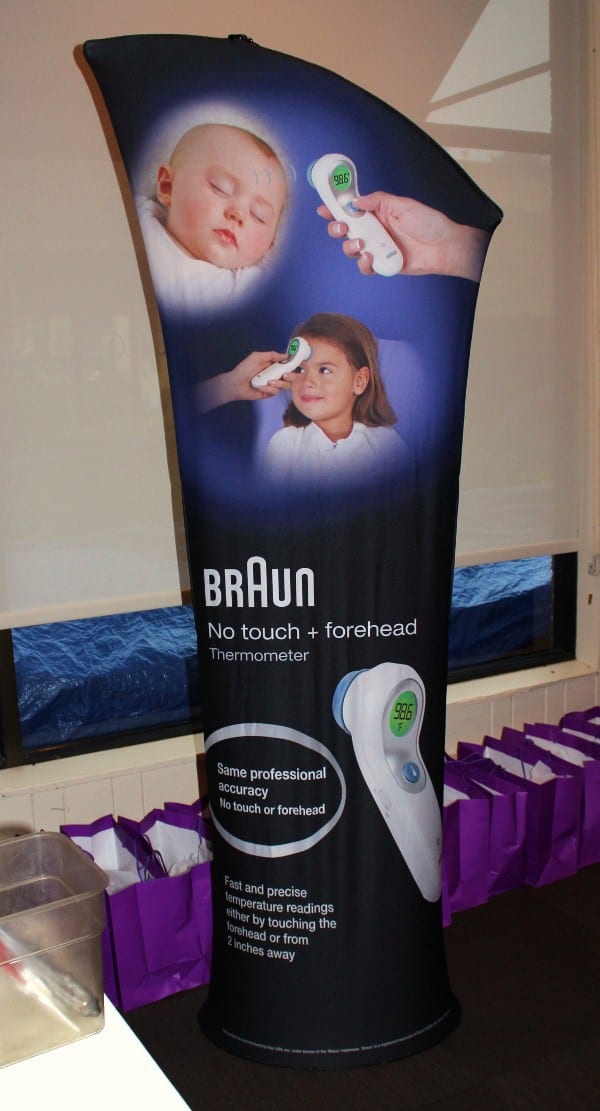 As we enjoyed our Chef prepared lunch, two representatives from Braun presented their "latest innovation from the # 1 brand in thermometry, the Braun No Touch + Forehead Thermometer.  It is the first thermometer with the convenience of two clinically proven options for temperature taking; completely non-invasive no touch or traditional forehead touch.  In just seconds, get the same, professional accuracy whether touching the forehead or holding the thermometer up to 2 inches away."
Some links in this post are Amazon affiliate links. If you click on them & make a purchase, I will receive a very small percentage – like a few cents.  However, this does not affect the price you pay or my opinion of these items.
I don't know about you, but my experience with thermometers has not been a good one.  I've tried different brands of the under-the-tongue kind and the swipe-across-the-forehead kind.  Neither have been accurate or consistent in taking my son's temperature.  It got to the point where I would just feel his forehead and estimate how high his temperature was.  I was so happy to see that Braun has come out with the Braun No Touch + Forehead Thermometer.  Knowing that Braun thermometers are the preferred thermometer for many hospitals and doctors, I was confident that this thermometer was the one we would use going forward.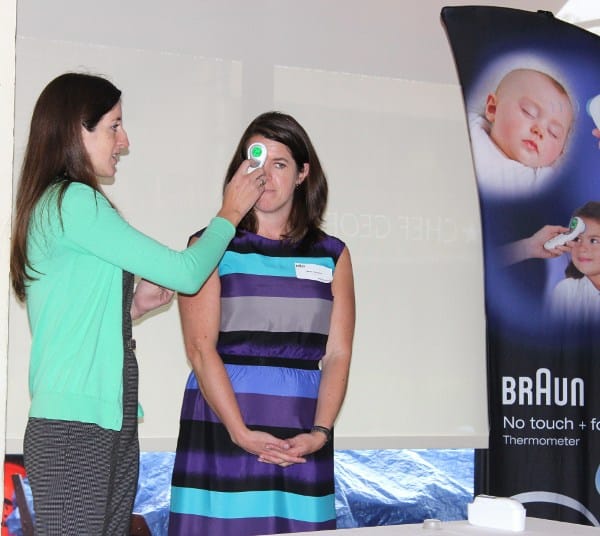 It's extremely easy to use and gives an accurate temperature every time.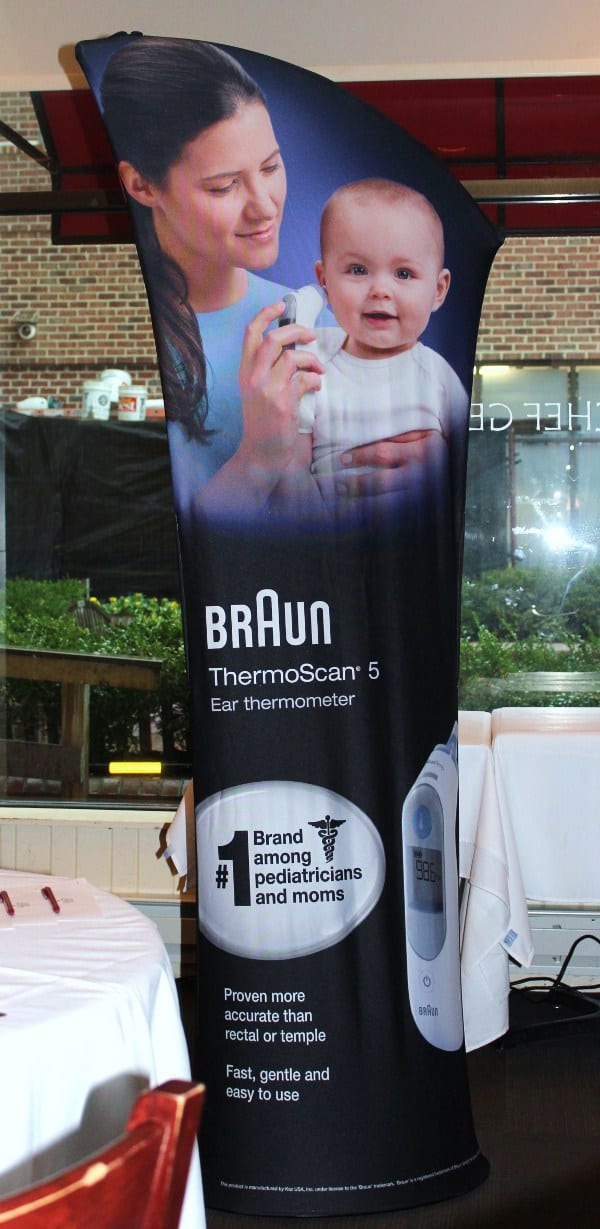 The Braun representatives also demonstrated their updated ThermoScan Ear Thermometer.  "The gold standard in thermometry and the # 1 thermometer brand among pediatricians and moms, the new Braun ThermoScan Ear Thermometer now has an improved design for an even better user experience.  Proven more accurate than rectal and temple measurements, this advanced thermometer is a must have for new and experienced parents."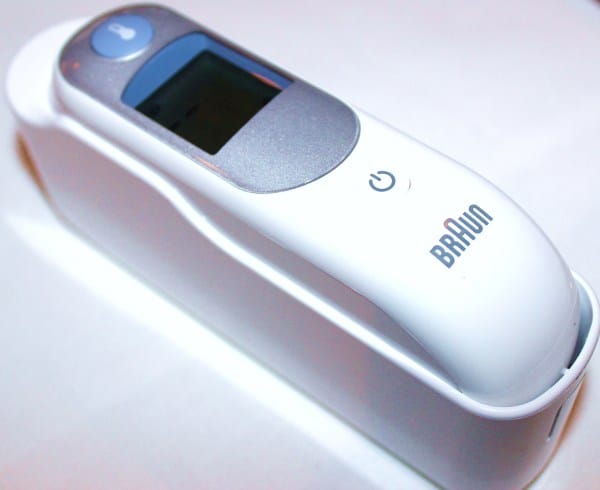 As our lunch and presentation was wrapping up, we were each given a Braun No Touch + Forehead Thermometer to take home with us!  How awesome is that!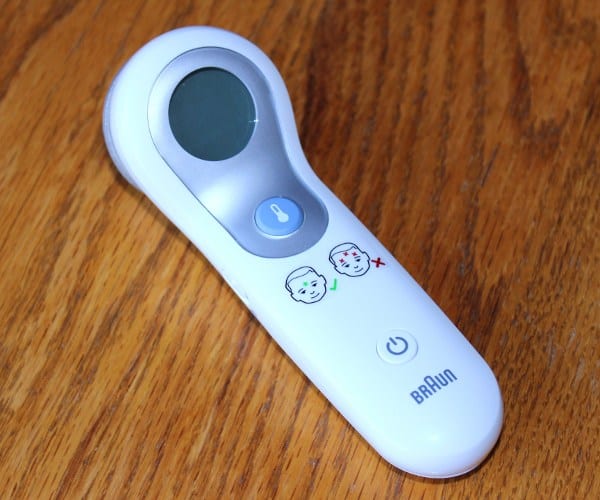 Unfortunately, the following day, my son woke up with terrible stomach pains and a low-grade fever.  BUT, fortunately, I had my brand new Braun thermometer and was able to confidently take his temperature.  I gave him a fever reducer and he was much better later in the day.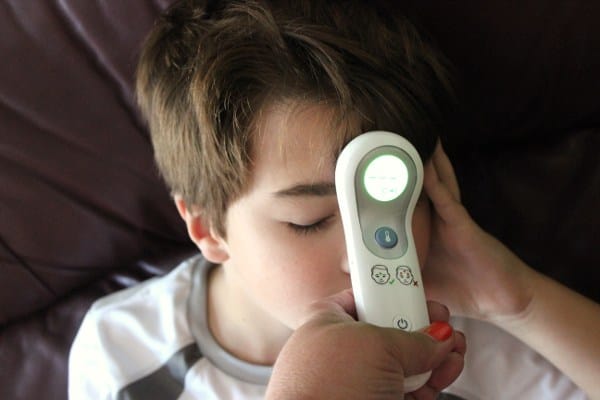 My son loved our new thermometer and couldn't help but to continue taking his temperature, along with his "patients', our cat, Mattie and our kitten, Max.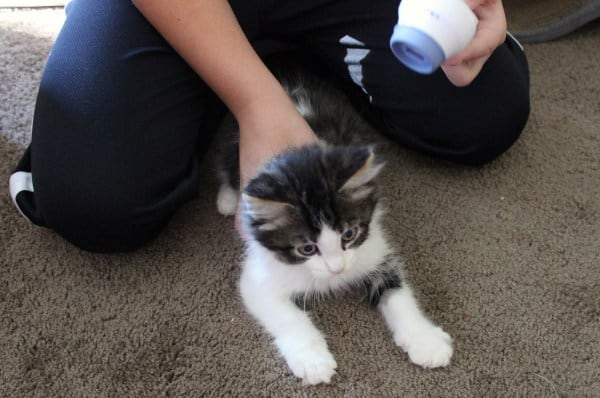 As you can see from this last picture, Max wasn't too happy about having his temperature taken.
DISCLAIMER: I received the Braun No Touch + Forehead Thermometer for free. However, the expressed opinions in this review are solely my own. 

Pam is married and has 1 son – a middle-schooler in his teen years. She followed Terri to Frederick in 1999. She absolutely loves going to yard sales and estate sales and finding hidden treasures.
read more...